What's next for Notre Dame football recruiting?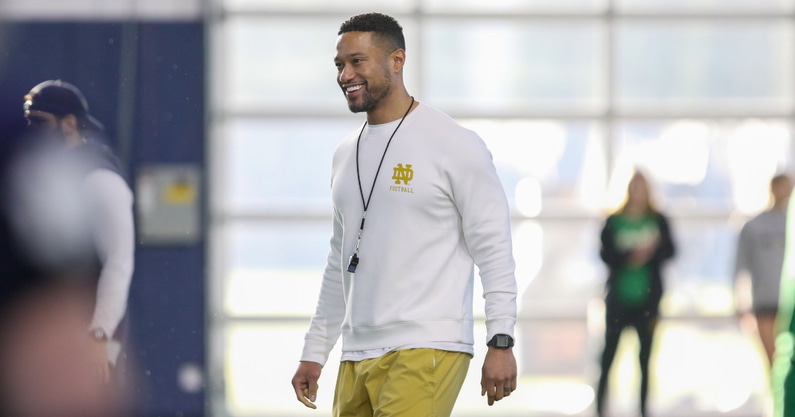 Round Rock (Texas) Stony Point class of 2023 four-star wide receiver Braylon James committed to Notre Dame April 19, and the Fighting Irish have been on a roll of new pledges since.
The Irish have landed six new commitments since mid-April. Five of them have come in the 2023 class, while the Irish got an early start in the 2024 cycle when West Bloomfield (Mich.) High defensive lineman Brandon Davis-Swain gave an impromptu pledge April 23.
Currently, the Notre Dame coaching staff is on the road, checking in at high schools of some of its top targets in the 2023 and 2024 classes. The staff is also making the rounds for area recruiting — building relationships with coaches at the top high schools in targeted cities and inquiring about new prospects. We've also seen Notre Dame offer a few new prospects to add to its 2023 recruiting board.
To our knowledge, May is not expected to be a month where the staff hosts recruiting visitors. The staff pushed for its big-time targets to get on campus in March and April with May being focused on the spring evaluation period. And when June rolls around, it's camp season, as top underclassmen will flock to South Bend for Irish Invasion June 5.
Of course, the Fighting Irish will have crucial official visit weekends this summer as well, starting June 3-5 when Phoenix Pinnacle offensive tackle Elijah Paige gets on campus. June 10-12 will arguably be Notre Dame's biggest recruiting weekend of the year with most of its top targets on campus, and the following weekend will have notable prospects as well.
On Tuesday, May 10, BlueandGold.com's Mike Singer joined Darin Pritchett on WSBT Sportsbeat AM to discuss Notre Dame's most recent commitment (Devan Houstan), how good the defensive line class is for the Irish and what is next for Notre Dame football recruiting.
PROMOTION: Sign up for just $1 for your first year at Blue & Gold
"Right now, it's the spring evaluation period. From Monday through Friday, the 10 assistant coaches are on the road. … But May is commitment season," Singer said. "The fruits of the staff's labors in March and April visits lead to May commitments. And then you'll see June official visits lead to some June commitments but most will announce their decisions in July.
"Again, we're in commitment season. It's crazy to say that signing day is about seven months away but you can kind of get a good picture of what the class is going to look like. I did a mock class article about 70 days ago and another on Monday, and the second article didn't look much different than the first. And 70 days is an eternity in recruiting. That goes to show that Notre Dame has its top guys and they're looking really good for a lot of them."
Notre Dame's 2023 class currently ranks No. 1 according to the 2023 On3 Consensus Team Recruiting Ranking. The Irish have 12 commitments with a score of 94.152.