Every Notre Dame football player to appear on a preseason award watch list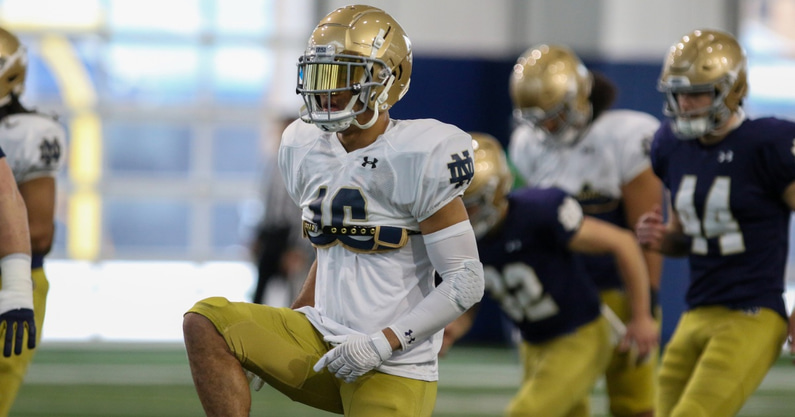 The curtains are drawn on watch list season. The Monday releases of preseason candidates for the Bednarik Award (best defensive player), Lombardi Award (player who best embodies the values and spirit of NFL's legendary coach Vince Lombardi) and the Mannelly Award (best long snapper) mark the end of a two-week period where nearly all major college football individual trophies released a batch of names to monitor as possible winners.
All told, 11 Notre Dame players appeared on 18 lists, including those released earlier this summer.
Safety Brandon Joseph and defensive end Isaiah Foskey were two of the 90 Bednarik nominees Monday, while Michael Vinson was one of 30 players on the Mannelly watch list. Foskey, tight end Michael Mayer, offensive lineman Jarrett Patterson and defensive tackle Jayson Ademilola are among the 78 names on the Lombardi list. Down linemen on either side of the ball and linebackers are eligible for the Lombardi Award.
PROMOTION: Sign up for just $1 for your first year at Blue & Gold
Mayer was named to five watch lists, the most of any Notre Dame player. Joseph is on four, while Patterson, Foskey and linebacker JD Bertrand made three. Running back Chris Tyree is on two lists. Foskey, Mayer, Patterson and Joseph have also made at least one appearance on a preseason All-America team this summer.
The last Notre Dame player to win an individual trophy was linebacker Jeremiah Owusu-Koramoah, who won the Butkus Award in 2020.
Notre Dame players on 2022 college football award preseason watch lists
• Vince Lombardi Award: Foskey, Mayer, Patterson, Ademilola
• Patrick Mannelly Award: Vinson
• Chuck Bednarik Award: Joseph, Foskey
• Walter Camp Award (player of the year, 52 nominees): Mayer
• Wuerffel Trophy (most impactful leader in community service and on-field achievement, 115 nominees): linebacker Jack Kiser
• Paul Hornung Award (most versatile player, 52 nominees): Tyree
• Lou Groza Award (best placekicker, 30 nominees): Blake Grupe
• Bronko Nagurski Award (best defensive player, 85 nominees): Joseph, Foskey
• Outland Trophy (best interior lineman, 89 nominees): Patterson, offensive guard Josh Lugg
• Butkus Award (best linebacker, 51 nominees): Bertrand
• Thorpe Award (best defensive back, 35 nominees): Joseph
• Mackey Award (best tight end, 54 nominees): Mayer
• Rimington Award (best center, 40 nominees): Patterson
• Biletnikoff Award (best receiver, 43 nominees): Mayer
• Doak Walker Award (best running back, 72 nominees): Tyree
• Maxwell Award (best player, 85 nominees): Mayer
• Allstate AFCA Good Works Team (community service, academic dedication and impact on and off the field, 114 nominees across all NCAA divisions): Bertrand
• Lott IMPACT Trophy (defensive player with the biggest impact on his team both on and off the field, 42 nominees): Joseph, Bertrand