Notre Dame football 2022 summer enrollee jersey numbers, other switches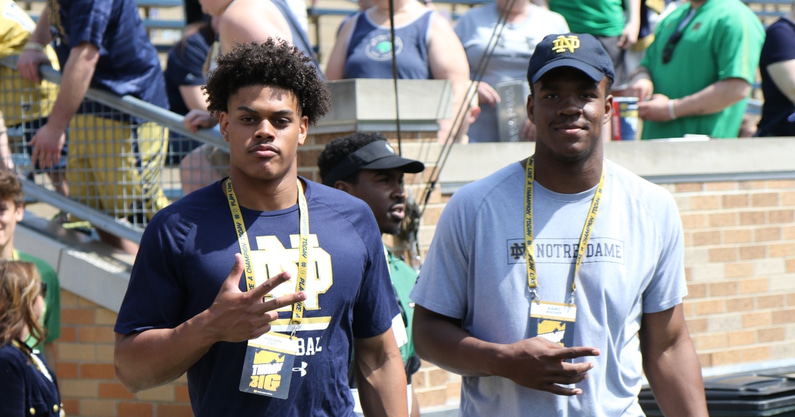 While a handful of rising freshmen on the Notre Dame football team enrolled in January 2022, the class is now complete. Just over a week ago, 10 additional freshmen (and two graduate transfers) arrived in South Bend. On Monday, their chosen jersey numbers were released.
Here is a look at those numbers with mention of the last Irish player to wear the number on their side of the ball.
* indicates graduate transfer
PROMOTION: Sign up for just $1 for your first year at Blue & Gold
CLICK HERE to order the 2022 Notre Dame Football Preview
Running back
Gi'Bran Payne: No. 13
Last worn by wide receiver Lawrence Keys III (2018-20)
Payne height, weight: 5-10, 195
Wide receiver
Tobias Merriweather: No. 15
Last worn by wide receiver Jordan Johnson (2020)
Merriweather height, weight: 6-4, 188
Tight end
Eli Raridon: No. 9
Last worn by wide receiver Keenan Centlivre (2017)
Raridon height, weight: 6-6, 225
Holden Staes: No. 85
Last worn by tight end George Takacs (2018-21)
Staes height, weight: 6-4, 224
Offensive line
Ashton Craig: No. 58
Last worn by offensive lineman Darnell Ewell (2018)
Craig height, weight: 6-4, 274
Aamil Wagner: No. 59
Last worn by linebacker Kier Murphy (2017-18)
Wagner height, weight: 6-6, 260
Ty Chan: No. 77
Last worn by offensive lineman Quinn Carroll (2019-21)
Chan height, weight: 6-5, 300
Defensive line
Donovan Hinish: No. 41
Last word by defensive lineman Kurt Hinish
Hinish height/weight: 6-2, 268
*Chris Smith: No. 65
Last worn by linebacker Evan Wray (2009)
Smith height, weight: 6-2, 293
Cornerback
Benjamin Morrison: No. 20
Last worn by safety Justin Walters (2021)
Morrison height/weight: 6-0, 179
Special teams
Kicker Bryce McFerson: No. 14
Last worn by safety Kyle Hamilton (2019-21) — The available Irish roster does not have a special teamer who wore No. 14 in recent years.
McFerson height, weight: 6-1, 183
*Punter Jon Sot: No. 39
Additional scholarship number switches
Wide receiver Lorenzo Styles: No. 21 to No. 4
Safety Xavier Watts: No. 26 to No. 4
Walters: No. 20 to No. 22
Running back Audric Estime: No. 24 to No. 7