Where Notre Dame football lands in way-too-early 2022 top-25 polls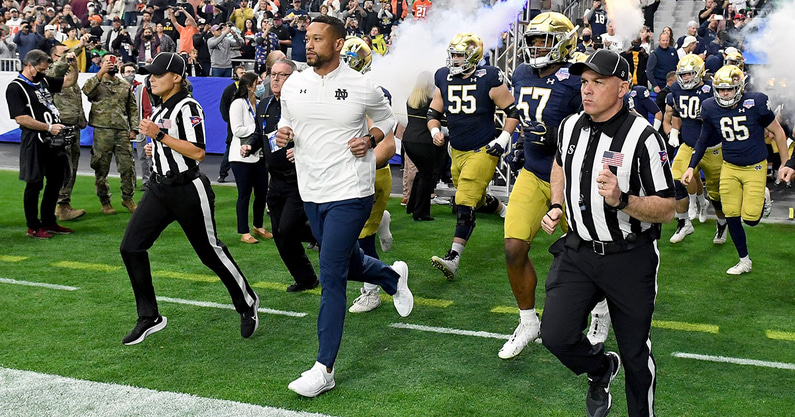 The 2021 college football season has officially come to a close.
The Georgia Bulldogs put a bow on a season in which they were ranked at the top of the Associated Press Top 25 for roughly half the year by beating the Alabama Crimson Tide in Monday night's College Football Playoff championship game.
The Bulldogs checked in at No. 1 in the final AP poll, and the Tide unsurprisingly came in at No. 2. The Notre Dame Fighting Irish churned out another top-10 finish, ending the year at No. 8. It is the fifth consecutive top-15 ranking for the Irish in the final poll of the year.
That must bode well for the start of 2022, right? Indeed, it does. Way-too-early top-25 polls have surfaced from various outlets, and Notre Dame appears near the top of many of them. Here's a look at what respected sources are saying about head coach Marcus Freeman's team ahead of his first full year at the helm.
Notre Dame rank: No. 10
What On3 Sports is saying: "Another team whose new coach has a lot of talent with which to work. But there are questions about the offensive backfield."
ESPN (Mark Schlabach)
Notre Dame rank: No. 6
What Schlabach is saying about Notre Dame: "The start of the Marcus Freeman era didn't go off as planned, as Notre Dame blew a 21-point lead in a 37-35 loss to Oklahoma State in the PlayStation Fiesta Bowl. The former defensive coordinator will grow into the position, but it's hard to ignore his energy and desire to upgrade recruiting. The defense got a boost with junior end Isaiah Foskey deciding to return, along with fifth-year seniors Jayson Ademilola and Justin Ademilola."
Notre Dame rank: No. 8
What Lassan is saying about Notre Dame: "Marcus Freeman's first full year in charge features a season opener at Ohio State, a home date versus Clemson, and a road trek to USC to close out November. However, the rest of the slate is manageable for the Fighting Irish, so hitting double digits in wins should be within reach once again. Unless a transfer arrives in South Bend, Tyler Buchner will slide into the full-time quarterback spot with Jack Coan off to the NFL … Freeman's defense held opponents to 19.7 points a game in 2021 and is likely to be a strength once again, especially with edge rusher Isaiah Foskey returning to South Bend, along with the addition of Northwestern transfer Brandon Joseph at safety. Buchner's development is crucial if Notre Dame wants to push for a playoff spot in '22."
Notre Dame rank: No. 9
What Forde is saying about Notre Dame: "Marcus Freeman takes on a tough schedule, with an opener at Ohio State and games against Clemson, BYU and USC. He will need a quarterback to step up, with Tyler Buchner the leading candidate as of now. But there is talent all over the roster after years of excellent recruiting."
Notre Dame rank: No. 5
What Mandel is saying about Notre Dame: "Quarterback Tyler Buchner likely takes over. Tight end Michael Mayer and RB Chris Tyree are proven playmakers. Revered O-line coach Harry Hiestand returns to South Bend to work with center Jarrett Patterson and tackle Blake Fisher. The defense loses several key players but brings back star DE Isaiah Foskey and linebackers JD Bertrand and Marist Liufau, who missed the 2021 season. Northwestern All-American safety Brandon Joseph was a huge pickup."
Notre Dame rank: No. 5
What Bender is saying about Notre Dame: "The talent is there for first-year coach Marcus Freeman. Quarterback is a fluid situation with Tyler Buchner leading over Drew Pyne, but the supporting cast of running backs Chris Tyree and Logan Diggs, tight end Michael Mayer and receiver Lorenzo Styles Jr. flexed in the Fiesta Bowl loss to Oklahoma State. The defense will need to rebuild its line and it would not hurt if a few veterans bypassed the NFL Draft. Still, Freeman is working with a loaded roster. Strength of schedule won't be a problem with road games at Ohio State and USC, a Las Vegas date with BYU and a home game against Clemson."
Notre Dame rank: No. 4
What Kenyon is saying about Notre Dame: "Although the Marcus Freeman era began with a disappointing bowl loss after head coach Brian Kelly left for LSU, Notre Dame finished 11-2 and has a wave of return-eligible seniors coming back to South Bend."
Notre Dame rank: No. 12
McMurphy does not give any reasoning as to why he was the only outlet on this list to rank Notre Dame outside the top 10. McMurphy also held Notre Dame outside of the top 10 in his final ballot of the 2021 season.