Notre Dame football announces game times for 2023 Irish home games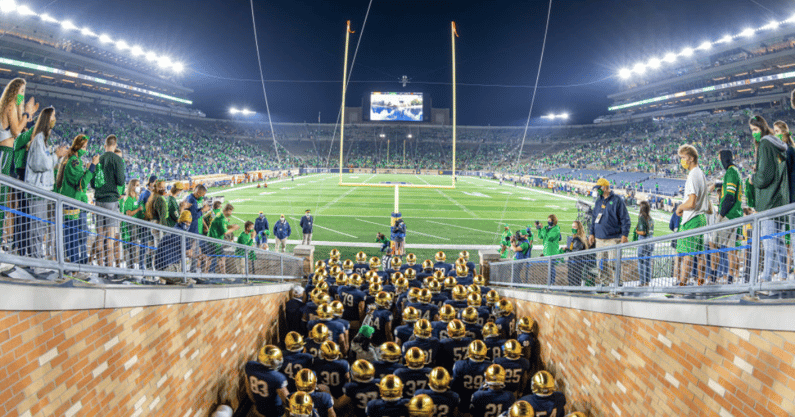 The 2023 Fighting Irish football season is rapidly approaching. Notre Dame released kickoff times for the six games held in South Bend, Ind., this fall on Wednesday.
Notre Dame's home opener vs. Tennessee State on Sept. 2, the Oct. 28 game vs. Pittsburgh and Nov. 18's game vs. Wake Forest are all at 3:30 p.m. ET on NBC. Sept. 16's clash vs. Central Michigan gets going at 2:30 p.m. ET and will be streamed exclusively on Peacock. A week later on Sept. 23, Notre Dame and Ohio State will tangle in primetime at 7:30 p.m. ET. Oct. 14's rivalry game vs. USC is also at 7:30 p.m. ET. Both of those games are on NBC.
The Irish's game vs. Tennessee State is the first ever for Notre Dame against an FCS team. Despite just roughly 200 miles and three and a half hours separating South Bend and Mount Pleasant, Mich., the Irish have never faced the Central Michigan Chippewas. Notre Dame has an all-time record of 49-21-1 vs. Pittsburgh. The Irish have won the last three meetings. The most recent was a 45-3 thumping in 2020.
The Irish should be extra motivated to avenge last year's loss to USC. A win over the reigning Heisman Trophy winner in QB Caleb Williams would be a huge midseason boost.
Nov. 18 will be an emotional day for Notre Dame quarterback Sam Hartman. He spent five seasons in a Wake Forest uniform and started 45 games for the Demon Deacons with a record of 28-17. He threw more touchdown passes (110) than any other quarterback in ACC history, all with a Wake Forest logo on his helmet.
Here's a full look at the 2023 Notre Dame football schedule. Home games are in bold.
2023 Notre Dame football schedule
Aug. 26: Navy (Aviva Stadium in Dublin, Ireland, 2:30 p.m. ET)
Sept. 2: Tennessee State (3:30 p.m. ET)
Sept. 9: at NC State (TBA)
Sept. 16: Central Michigan (2:30 p.m. ET)
Sept. 23: Ohio State (7:30 p.m. ET)
Sept. 30: at Duke (TBA)
Oct. 7: at Louisville (TBA)
Oct. 14: USC (7:30 p.m. ET)
Oct. 21: BYE
Oct. 28: Pittsburgh (3:30 p.m. ET)
Nov. 4: at Clemson (TBA)
Nov. 11: BYE
Nov. 18: Wake Forest (3:30 p.m. ET)
Nov. 25: at Stanford (TBA)
Preorder Blue & Gold Illustrated's 2023 Notre Dame Football Preview magazine before June 12 and get free shipping!!! On3 subscribers should go to The Lou Somogyi Board for discounted pricing.