Notre Dame football alums launch 'Irish Players Club' NFT project: 'It's about helping the team'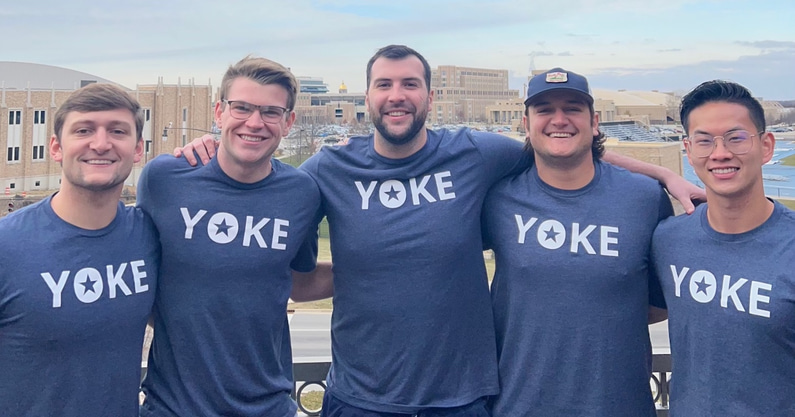 Notre Dame gave a lot to the Assaf family. Now they are using the name, image and likeness (NIL) space to give back to the Irish football team.
The "Irish Players Club" is a new project launched by Yoke and run by former Notre Dame football players Mick Assaf and Nic Weishar, along with Assaf's older brother Hank. The group made the announcement on Wednesday, and they are set to launch the non-fungible token (NFT) operation on March 1.
"The stated goal of our project is to support the players." Hank Assaf told BlueandGold.com. "Secondarily, it will provide perks to loyal fans who join the Irish Players Club."
Of note, many high-level Power Five football programs have created NIL collectives in recent months, while Notre Dame does not yet have an organized way in which to support their football team under the new NIL rules. Yoke is hoping to change that through this alternative to an NIL collective.
How did the 'Irish Players Club' come about?
The project started in its initial form just prior to the onset of the NIL era last summer. The Assaf brothers and Weishar launched Yoke, a platform on which fans can play video games with their favorite college athletes. 
Yoke had 15,000 college athletes sign up for the platform the day the new rules went into effect, July 1, 2021. Shortly thereafter, they put together a series of marketing deals with several companies, including DirecTV and a chicken wing company called It's Just Wings. As they learned more about how athletes and fans were utilizing NIL, they came up with a new idea.
"We started to realize that the reality is all these brands want to do NIL stuff, but the real demand is actually coming from fans who want to support players," Assaf said. "So we found that the best way for fans to directly support players was through NFTs."
What is an NFT?
Non-fungible tokens (NFTs) are digital assets which can be bought and sold just like other assets, similar to a digital trading card. 
The Irish Players Club NFTs will feature a leprechaun, but it will not be the leprechaun formally associated with the University of Notre Dame. Instead, each NFT owner will receive a headshot of the leprechaun below with different traits. Some traits will be considered "rare," so the NFT will be worth more on the secondary market when put up for sale. Rare traits for these particular NFTs will include gold skin, a pipe in the leprechaun's mouth and even a beer helmet, among other things. The images will be drawn by a famous NFT artist, per Assaf.
Fans who purchase an NFT will not know what it looks like until after they buy it, similar to a mystery box toy or grab bag situation, and they can buy up to 50 NFTs as part of the Irish Players Club.
NFTs are typically bought with cryptocurrency and backed by blockchain, but the Irish Players Club NFTs will also be available for purchase with a debit or credit card according to Assaf.
"That's going to be really unique for our project," Assaf said. "If it's your first time ever dealing with NFTs or cryptocurrencies, you don't actually need to have cryptocurrency or NFT experience. You can use a credit card like you're checking out on Amazon."
Of the money raised from the purchases, 75% of the proceeds will be divided equally and go directly to the players. It doesn't matter if you're running back Logan Diggs or a third-string freshman linebacker, all players will receive the same amount of the pot. According to Assaf, if they sell out of NFTs, the Notre Dame players will evenly split numbers in the mid-six figures.
What does one do with the NFT?
The NFT itself serves solely as a ticket-like item to access exclusive events and receive unparalleled access to the Irish football team. That access will come in the form of camps, events and the ability to communicate with players and other Irish Players Club members through open discussion spaces on Discord, similar to Twitter Spaces and Instagram or Facebook live sessions.
"Once you buy an NFT and prove that you own the NFT, you gain access to this exclusive community," Assaf said. "There will be film breakdowns done by players and beat writers. There will be Twitter Space-like ticketed events, and your ticket will be your NFT.
"We're going to release a roadmap in about a week that will say 'If you own one NFT, you'll be able to go to these events. Maybe if you own three NFTs, you'll have access to camps.'"
Which players are involved?
The project is currently only open to the Notre Dame football team, and Yoke is expanding to cover multiple college football teams across the nation. Those schools have yet to be announced.
To date, Assaf said only a handful of Notre Dame football players have yet to sign up; the vast majority of the team is already locked in. A few notable players signed on are Diggs and fellow running back Chris Tyree, receiver Avery Davis and cornerback Cam Hart.
In order to be involved and receive the payout, players must meet an Instagram and Twitter post quota. Yoke has yet to release those specifics, but additional details will come out over the next few weeks ahead of March 1. Players will be paid separately for any additional events in which they partake.
"Past the social media quota, all of the other stuff they do is going to be compensated," Assaf said. "It's not part of the base deal that they have to show up to a camp."
The remaining 25%, the part which is not evenly split amongst all players who have opted in on the team, will go toward marketing, tailgates, watch parties and the like.
Additionally, the Irish Players Club has the support of a number of former Notre Dame players, including New Orleans Saints quarterback Ian Book, Pittsburgh Steelers wide receiver Chase Claypool, Indianapolis Colts offensive lineman Quenton Nelson and Detroit Lions defensemen and brothers Romeo and Julian Okwara.
In addition to promoting the Irish Players Club on social media, the alums will be involved in exclusive film breakdowns and even hop into Discord groups every now and again to interact directly with fans.
Assaf admitted the NFT world can be confusing and daunting, so he drove home one point he wants all Notre Dame fans to remember when it comes to the Irish Players Club.
"It's not about the NFT, it's about helping the football team."