Notre Dame to hire former Ohio State LB coach Al Washington as D-line coach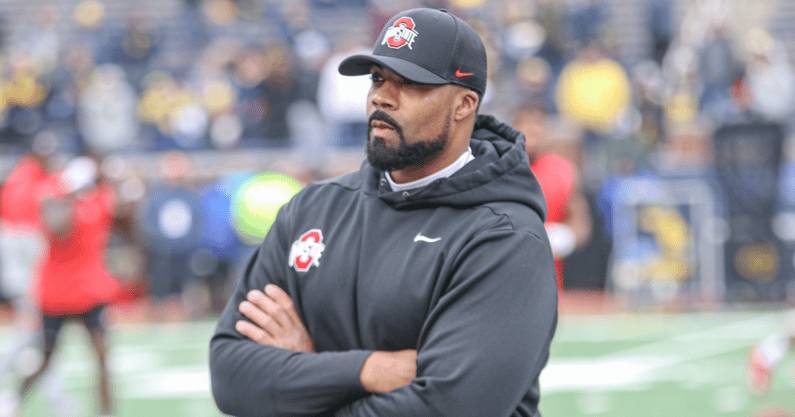 The Ohio State to Notre Dame pipeline continues.
Former Buckeye Marcus Freeman was named the Fighting Irish's head coach in December. He brought Ohio State teammate James Laurinaitis onto his staff earlier this month. Now former Ohio State linebackers coach Al Washington is set to be named Notre Dame's defensive line coach, sources confirmed to BlueandGold.com and On3's Matt Zenitz. Pete Thamel of ESPN first reported the news.
Washington will replace Mike Elston, who left Notre Dame for Michigan after 12 years of coaching in South Bend. Washington spent the last three seasons coaching the Buckeyes' linebackers. He was not retained by new Ohio State defensive coordinator Jim Knowles, who arrived after four seasons at Oklahoma State.
Washington, 37, is a graduate of Boston College. He had 74 tackles, 15.5 tackles for loss and six sacks as a defensive tackle there from 2002-05. He started in 24 games for the Eagles.
A Columbus, Ohio, native, Washington started his coaching career at Division III Rensselaer Polytechnic Institute (RPI) in 2007. He was a graduate assistant at NC State in 2008. He coached the Division II Slippery Rock defensive line in 2009-10 and the FCS Elon linebackers in 2011. Washington finally made it to the Division I level as an assistant special teams and defensive line coach in 2012.
Washington coached the running backs at his alma mater from 2013-15. He moved back to special teams and the defensive line in 2016 before making his way closer to home as the Cincinnati defensive line coach in 2017. That's when he connected with Freeman, who was in his first year as the Bearcats' defensive coordinator.
Washington only stayed at Cincinnati for one season. Freeman was the DC there for three seasons before Notre Dame came calling. Washington coached the Michigan defensive line in 2018. His long, winding coaching road took him home to Columbus as the Buckeyes linebackers coach from 2019-21. Now he's rekindling his connection with Freeman as a member of Freeman's first Notre Dame coaching staff.
Ohio State had the No. 1 total defense in the country in Washington's first season there, but the Buckeyes were ranked No. 59 in that category in each of the last two seasons. Ohio State was gashed on the ground in its final two games of this past season. Michigan ran for 297 yards in the Wolverines' first win over the Buckeyes since 2011. Utah rushed for 226 yards in a narrow Ohio State victory in the Rose Bowl.
Elston did not leave the cupboards bare for Washington. Notre Dame lost two of four defensive line starters from last year's roster but arguably got the better two back on campus for another year. Defensive end Isaiah Foskey, who led the Irish in sacks with 11.0, and defensive tackle Jayson Ademilola, who led the team with 43 quarterback pressures, are both back in blue and gold.
Ademilola's brother, Justin, is also back at defensive end to likely back up Foskey at the "vyper" end spot. Those two worked well in tandem in 2021. Defensive tackle Kurt Hinish and defensive end Myron Tagovailoa-Amosa must be replaced, but the depth at D-line is a strength for the Irish. From Howard Cross III and Jacob Lacey at tackle to Rylie Mills, Nana Osafo-Mensah and Alex Ehrensberger at end, the Irish have options to replace who they've lost.
Washington was a warrior on the recruiting trail for Ohio State head coach Ryan Day. He was the primary recruiter in five-star athlete Sonny Styles' recruitment. Styles chose Ohio State over Notre Dame, where his brother, Lorenzo Styles, is a rising sophomore wide receiver. Washington was also the primary recruiter in five-star linebacker C.J. Hicks' recruitment.
Washington's recruiting prowess and ties to the Big 10 footprint will help Freeman battle for five-star talent with Ohio State, Michigan and any other premier programs vying for the best recruits the midwest has to offer.