Newsstand: Former Notre Dame WR Golden Tate re-igniting baseball career after 13-year hiatus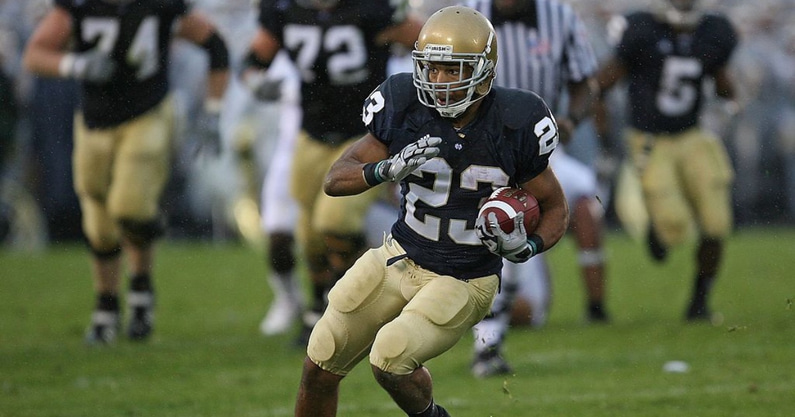 Former Notre Dame wide receiver and 12-year NFL veteran Golden Tate is taking another hack at his "first love." And it's not football.
Tate is giving baseball one more shot – 13 years after he last played it.
The West Coast League's Port Angeles Lefties have signed Tate, 33, for the remainder of the 2022 season, the team announced Tuesday. He started in center field and batted in the No. 2 spot Tuesday night, going 2-for-4 with an RBI double.
"As a child, my first love was baseball, so I'm excited about the opportunity to compete against some of the best young players in the league," Tate said in the announcement. "I look forward to having a lot of fun and exploring baseball more."
Tate played baseball at Notre Dame from 2007-08. He was the starting left fielder as a sophomore and batted .329 in 55 games that year. He left the team after the 2008 season to focus on football. The San Francisco Giants drafted him in the 50th round in 2010, but he did not sign. The Arizona Diamondbacks made him a 42nd round pick in 2007 out of high school.
CLICK HERE to order the 2022 Notre Dame Football Preview
Tate caught 157 passes for 2,707 yards and 26 touchdowns for Notre Dame from 2007-09. He hauled in 93 catches for a school-record 1,496 yards and 15 touchdowns as a junior, earning unanimous All-American recognition and winning the Biletnikoff Award. He bypassed his senior year and declared for the 2010 NFL Draft. The Seattle Seahawks picked him in the second round.
Through 12 NFL seasons, Tate has 695 receptions for 8,278 yards and 46 touchdowns. He won a Super Bowl with the Seahawks in 2013. He signed with the Detroit Lions in 2014 and posted three 1,000-yard seasons in four years. Tate spent six weeks on the Tennessee Titans' practice squad last season and was released in January. He remains a free agent.
The WCL is a summer collegiate baseball league with teams based in Washington, Oregon, Alberta and British Columbia. Buffalo Bills safety Jordan Poyer and former Tennessee Titans quarterback Jack Locker played in it before starting their pro football careers, but Tate is the first ex-NFL player to join one of its teams. Its 2022 season began in late May.
Notre Dame tweets of the day
JJ Starling has arrived.
Blake Wesley is staying busy ahead of next week's NBA Draft.
Some pretty strong cross-sport success.
Sign up for Blue & Gold and On3 for the latest Notre Dame athletics coverage, insider recruiting notes, and more! It's just one dollar for the introductory first year. More information can be found on our subscriptions page.
Quote of the Day
"I liked Notre Dame already. The only thing that was holding me back was that I hadn't been there. It's going to be tough for Georgia because Ohio State and Notre Dame have some strong attributes."
— Four-star wide receiver Rico Flores Jr. on his official visit
Headlines of the Day
Lucky Charms: Thoughts, tidbits on 2023 Notre Dame football targets (Mike Singer, Blue & Gold)
2024 RB Aneyas Williams adds Notre Dame to fast-growing offer list after strong camp performance (Patrick Engel, Blue & Gold)
Notre Dame trending for 2024 four-star WR Cam Williams? (Mike Singer, Blue & Gold)
Sights, sounds from Notre Dame baseball returning from Knoxville before College World Series (Tyler Horka, Blue & Gold)
Four-star 2024 QB CJ Carr's On3 NIL Valuation reaches $138,000 after Notre Dame commitment (Ashton Pollard, Blue & Gold)