Notre Dame TE Kevin Bauman, S Ramon Henderson out vs. North Carolina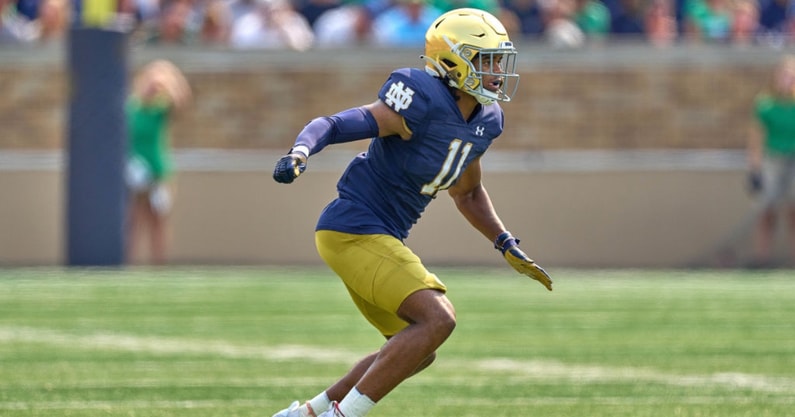 Notre Dame will attempt to get back to .500 without two rotation players and special teams contributors Saturday. Junior tight end Kevin Bauman and junior safety Ramon Henderson will not play for the Irish against North Carolina, the team announced pregame.
Bauman has a knee injury and Henderson has an ankle issue, per the team. Head coach Marcus Freeman said Bauman was injured in Wednesday's practice.
PROMOTION: Sign up for just $1 for your first year at Blue & Gold
"Kevin kind of got twisted up," Freeman said Thursday.
Freeman did not divulge anything about Bauman's status for Saturday in his Thursday press conference, but that twist-up will now cost him at least one game. Henderson's injury was not addressed at any point before Saturday's injury report. He finished the Sept. 17 win over Cal.
Bauman was Notre Dame's No. 2 tight end behind junior Michael Mayer the first three games, catching 3 passes for 44 yards in 75 total snaps. He also played on punt teams and the field goal unit.
Henderson has 8 tackles and 0.5 sacks this season. His 61 snaps are fourth among Notre Dame's safeties this year. He has been senior Brandon Joseph's backup and is often part of the Notre Dame defense's dime package. He also plays on the kickoff coverage, punt coverage and punt return teams. He started the final four games of last season after moving from cornerback last November.
Henderson's absence could open the door for sophomore Justin Walters' first action on defense this year, but the more likely outcome is an increase in snaps for junior safety Xavier Watts.  
Bauman will likely elevate freshman Eli Raridon's and sophomore Davis Sherwood's roles on offense. Raridon logged 7 combined snaps over the last two games, with 0 targets. Sherwood is listed as the No. 3 tight end, but is more of a fullback/tight end hybrid and a blocker first. He has been a run blocker on all nine of his snaps this year, per Pro Football Focus.
Notre Dame (1-2) entered the game against North Carolina (3-0) seeking its 25th straight regular season win against ACC opponents and 12th in a row on the road. Junior quarterback Drew Pyne makes his first career road start.
More Notre Dame football links:
Pregame observations: Live updates from Notre Dame football at North Carolina
The last word: Final thoughts before Notre Dame football at North Carolina