Notre Dame LB Isaiah Pryor declares for 2022 NFL Draft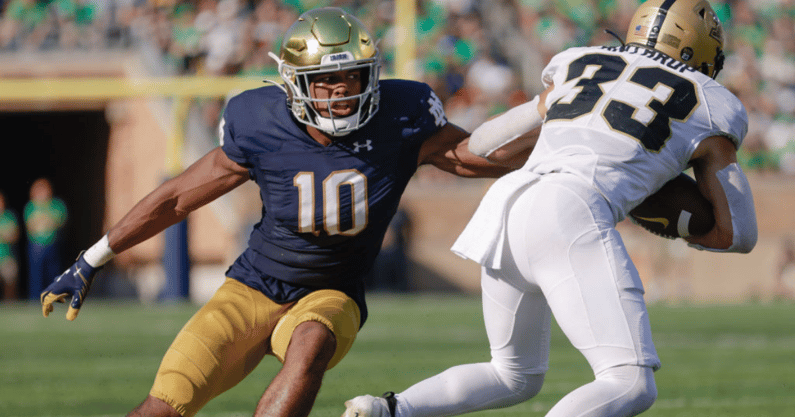 Notre Dame has brought back an impressive haul of players who were eligible for the 2022 NFL Draft. Many have decided to stay in South Bend for another season. Sunday, one of the players who could have returned decided to move on.
Linebacker Isaiah Pryor announced on social media his decision to enter the draft. The Ohio State transfer played in all 25 Notre Dame games over the past two seasons, jumping from 63 total defensive snaps in 2020 to 287 in 2021. He had 42 tackles this past season, three of which went for a loss.
Pryor thanked his coaches and teammates for his two seasons at Notre Dame in a Twitter post.
"It has truly been an honor playing for the Fighting Irish," Pryor said. "Wherever I go, I will forever remember your kindness, love, cheers, and the good times we have shared. Thank you for allowing me to be a part of your lives."
Pryor's announcement came not long after center Jarrett Patterson announced his return to the Fighting Irish roster. He has been Notre Dame's starting center for the last two seasons and figures to remain in that position for one more.
Pryor, meanwhile, totaled 50 tackles over two seasons in a Notre Dame uniform. He had 45 in three seasons at Ohio State. He never started a game during his time in South Bend, but he was a key reserve in the rover role. He was also a regular contributor on special teams.
Notre Dame is set at multiple linebacker positions for this upcoming season even with Pryor's departure. Rising senior Jack Kiser started over Pryor at rover. It will be intriguing to see where incoming freshman Jaylen Sneed figures into the depth chart at rover, if that's where head coach Marcus Freeman sees him fitting best. Rising junior Jordan Botelho could be in line for an increase in playing time with Pryor exiting the picture as well.
Rising senior JD Bertrand and rising sophomore Prince Kollie will remain a 1-2 punch at Will linebacker, with the latter likely to make more contributions having been in the program for a full year now. Bertrand led the team in tackles with 102. Nobody else on the roster had more than 55.
Notre Dame's middle linebacker situation, though, is far from set in stone. It appears starter Drew White will not make use of the extra eligibility waiver granted to anyone who played during the 2020 season. Bo Bauer has not announced a decision on that front, either. Those two held down the Mike linebacker spot all season.
If Bauer were to come back, he'd have a firm grip on a starting job for the first time in his Notre Dame career. The incentive to stay is there.
For Pryor, on the other hand, it wasn't. Kiser will continue to play majority of the snaps at rover. Though Pryor was never a starter, he has athleticism that could translate to the next level. At 6-1½ and 217 pounds, the converted linebacker could switch back to safety and try to find a home in the NFL via that avenue.