Recapping where Notre Dame football stands with assistant coach hires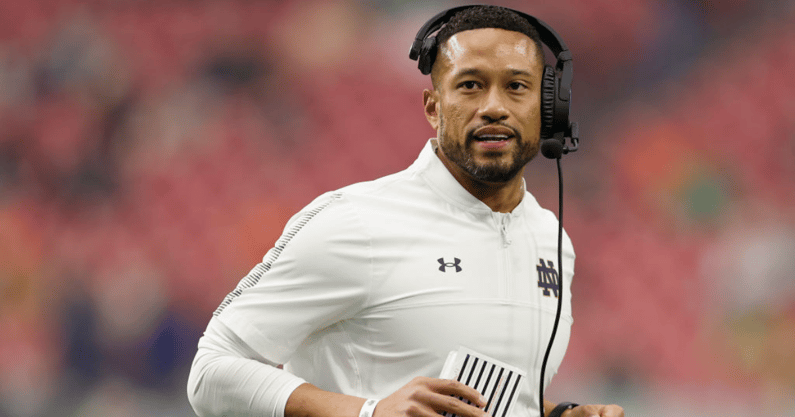 Notre Dame director of athletics Jack Swarbrick was right.
Just over a month ago, Swarbrick told Notre Dame football coach Marcus Freeman there would always be something new to contend with as the man in charge of the Fighting Irish. The job wouldn't ever slow down. So far, it hasn't. Freeman has experienced just about everything but an on-field victory in his first six weeks on the job.
Recruiting commitments? Of course. Recruiting defections? Those too. A relatively successful early signing day? The numbers say so. Coaches retained on staff? Absolutely. Coaches departing the staff? Naturally. And it's those last two bullet points that have had to be at the front of Freeman's mind ever since Notre Dame lost to Oklahoma State in the Fiesta Bowl on Jan. 1.
It's been a cycle of two steps forward, one step back for Freeman in regard to filling out his first coaching staff — to no fault of his own. Freeman has hired Cincinnati special teams coach Brian Mason, former Notre Dame offensive line coach Harry Hiestand and Baylor wide receivers coach Chansi Stuckey for those respective roles in South Bend. He also brought James Laurinaitis in for what many expect to be a defensive analyst role even though Notre Dame has still not signaled which way it is going with the vacant linebacker coach position left by Freeman himself.
On the other hand, defensive line coach Mike Elston left for the same job at Michigan and running backs coach Lance Taylor became the offensive coordinator at Louisville just within the last week. Freeman has already filled the void left by the former by hiring former Ohio State linebackers coach Al Washington. He has yet to land on a new running backs coach.
Notre Dame still lacks a defensive coordinator, too. Of all the hires Freeman has already made and still has to make, that's probably the most important for obvious reasons. He's looking for his own successor, after all. Freeman was the Notre Dame defensive coordinator for one season in 2021 before being promoted to head coach after Brian Kelly left for LSU.
What has the world learned about Freeman in the last month and a half? He's only 36 (as of Jan. 10), but he's equipped to handle the craziness that comes with being a college football head coach. He probably didn't see the Elston departure coming. Who did? A month ago Elston lauded Notre Dame and South Bend, calling it home for him, his wife and daughters. Now he's in Ann Arbor.
But Freeman already has his replacement, and it took a matter of days to find him. That's quick work for a first-time head coach.
Will Washington pick up where Elston left off in recruiting and coaching the Notre Dame defensive line to being what a large faction of folks would call this past season's best, most well-rounded position group? Only time will tell. Freeman believes it to be so, though, and that counts for something. He went out and got his guy.
He has to do so with a defensive coordinator and running backs coach now, too, but there isn't much outside chatter that Freeman won't be able to land two good gets for those roles. That bodes well for the Irish moving forward.
Here's a look at where Marcus Freeman's Notre Dame coaching staff stands as of Jan. 17:
Notre Dame football coaching staff
Offense
Offensive coordinator/quarterbacks coach: Tommy Rees (Sixth year at ND, third as OC)
Offensive line coach: Harry Hiestand* (First year at ND in current stint; previously coached the ND O-line from 2012-17)
Running backs coach: TBD (Replacing Lance Taylor)
Wide receivers coach: Chansi Stuckey* (First year at ND)
Tight ends coach: John McNulty (Third year at ND)
Defense
Defensive coordinator: TBD (Replacing Marcus Freeman)
Defensive line coach: Al Washington* (First year at ND)
Linebackers coach: TBD (Replacing Marcus Freeman)
Safeties coach: Chris O'Leary (Fifth year at ND, second as safeties coach)
Cornerbacks coach: Mike Mickens (Third year at ND)
Other
Head coach: Marcus Freeman (Second year at ND, first as HC)
Special teams coach: Brian Mason* (First year at ND)
Strength and conditioning coach: Matt Balis (Sixth year at ND)
*Hire has not been officially confirmed by Notre Dame Athletics