Notre Dame freshman OL Joey Tanona medically retires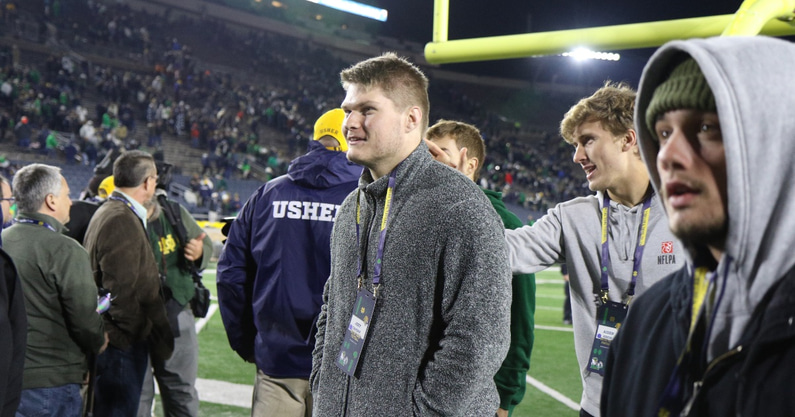 One of Notre Dame's freshman offensive linemen has seen his playing career end before his first fall semester on campus. Guard Joey Tanona has medically retired and is no longer on the roster, head coach Marcus Freeman announced Friday following the first practice of preseason camp.
Tanona suffered a concussion during a car accident this winter that Freeman described in April as "a pretty bad one." He did not participate in spring practice. He even had to miss class during his first semester because of the head injuries' severity, offensive line coach Harry Hiestand said in the spring.
PROMOTION: Sign up for just $1 for your first year at Blue & Gold
The crash's and concussion's effects have continued to linger to the point where playing football isn't feasible.
"After his accident in the wintertime, he kept trying to come back," Freeman said Friday. "Mentally and physically, he was not in a place where he was ready to play football. He decided to medically retire. He will still be here to get his degree. That's the greatest thing about this place. We can guarantee one thing — that at some point, the game of football is going to be over. But you have a chance to get a degree from this university and you a chance to be successful. He's in good spirits."
More Notre Dame football:
• Friday 5: Key questions Notre Dame needs to answer during preseason camp
• Notre Dame's Top 25 Most Important Players for 2022, No. 1: Tyler Buchner
Tanona (6-foot-5, 284 pounds) was a January enrollee and a four-star recruit in Notre Dame's 2022 class. The Zionsville, Ind., native was the No. 144 player nationally and No. 5 in Indiana in the 2022 cycle, according to the On3 Consensus. He was the Irish's first 2022 commitment and chose them in July 2020 over LSU, Michigan, Michigan State, Nebraska, Ohio State and Penn State, among others.
Putting Tanona on medical scholarship means Notre Dame is down to the 85-man maximum. The Irish had been at 86 scholarship players since the spring. They have 15 scholarship offensive linemen without him. Four are freshmen: guard Billy Schrauth, interior lineman Ashton Craig, tackle Ty Chan and tackle Aamil Wagner.
Medical disqualification rules out Tanona from playing at Notre Dame, but not elsewhere. If he wants to resume his playing career and gets medical clearance to do so, he will have to transfer to another program.