Four-star Notre Dame TE target Jack Larsen announces top five, commitment date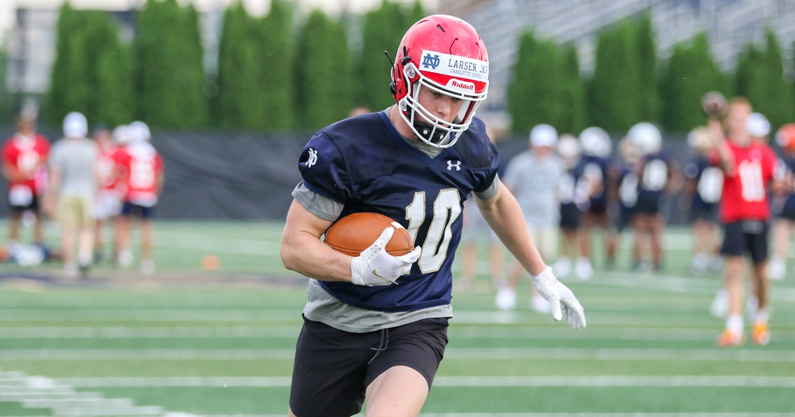 Charlotte (N.C.) Catholic class of 2024 tight end Jack Larsen had a big announcement Friday. The four-star prospect released his top-five schools list along with his commitment date.
The 6-3, 212-pounder narrowed his options down to Notre Dame, Michigan, North Carolina, North Carolina State and Clemson. Larsen announced this in a tweet with a graphic made by On3's Hayes Fawcett.
Larsen will be making his commitment next Friday, June 24, at 4 p.m. ET during a live stream on CBS Sports HQ.
Notre Dame is considered the team to beat for Larsen according to the On3 Recruiting Prediction Machine (RPM) at 88.8 percent. N.C. State is running second at 3.8 percent.
South Carolina, Florida State, Florida, Texas A&M, Alabama and Virginia Tech are among the other offers for Larsen, who ranks as the No. 231 overall recruit and No. 13 tight end per the 2024 On3 Consensus. He's also the No. 4 prospect from his home state of North Carolina.
PROMOTION: Sign up for just $1 for your first year at Blue & Gold
CLICK HERE to order the 2022 Notre Dame Football Preview
Larsen shined at Irish Invasion
He was one of the marquee recruits at Notre Dame's top prospect camp of June, and Blue & Gold was thoroughly impressed with his performance, naming him the offensive MVP of the event.
"In all honesty, Larsen may have had the best performance of any player on the day, which is saying something considering the amount of strong performances today," Blue & Gold's Mike Singer wrote. "In his testing, you could see the Notre Dame coaches buzzing about how he moved, and Larsen couldn't be stopped in the one-on-ones. No one could cover him. He was too physical and had a knack for creating seperation. There's no doubt that Larsen is one of the best tight ends in the 2024 class."
Larsen enjoyed working out with Irish tight ends coach Gerad Parker during the camp. They've built a strong connection over the past several months.
"I would say being on the field with Coach Parker and seeing how he approaches things and coaches," Larsen answered when asked for a main highlight of the visit. "That was definitely a good experience.
"They (the Notre Dame staff) were happy with how I did at camp, for sure," Larsen added. "It was awesome. It was my fourth time up there. It was great to be coached by Coach Parker and meet with all of the coaches."
Before leaving campus, Larsen had a sit down meeting with Notre Dame head coach Marcus Freeman.
"He was telling me how special Notre Dame is and how they're headed in the right direction," noted Larsen. "Notre Dame is definitely in my top schools."
And we'll find out if Notre Dame is the top school for Larsen next Friday.