Newsstand: Notre Dame offers son of NFL Hall of Famer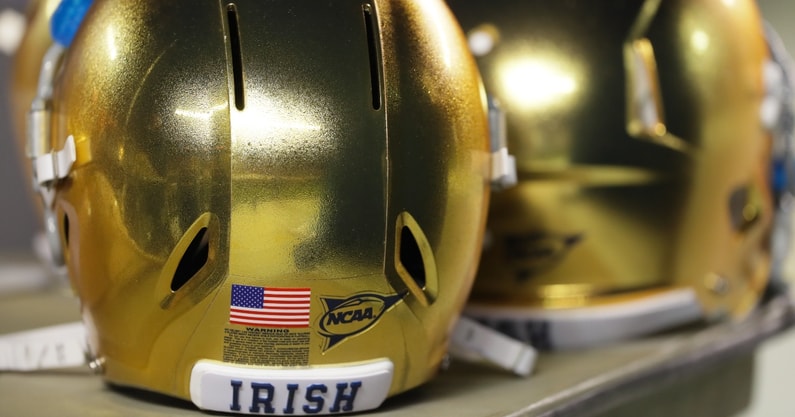 Notre Dame's latest offer has NFL bloodlines. Hall of Fame bloodlines.
The Irish offered 2024 Chandler (Ariz.) High School defensive back Kennedy Urlacher, the son of former Chicago Bears and Pro Football Hall of Fame linebacker Brian Urlacher. The elder Urlacher played in the NFL from 2001-12 and was inducted into the Hall of Fame in 2018.
Kennedy Urlacher's offer list also includes Arizona, Arizona State, Colorado State, Iowa, Kansas State, Nebraska, New Mexico and Penn State.
Notre Dame has one cornerback commitment in its 2024 class: Cincinnati Moeller three-star Karson Hobbs, who flipped from South Carolina in November.
Notre Dame head coach Marcus Freeman and Irish assistants were all over the desert Monday, also making stops at Queen Creek (Ariz.) Casteel and Yuma (Ariz.) Catholic. Casteel has 2024 four-star cornerback Jeremiah Newcombe, and Yuma Catholic has three-star EDGE Jaxson Jones. The latter was committed to Washington, but backed off his pledge Monday night.
Notre Dame Tweets of the Day
Winter workouts are underway.
The Irish corners impressed in 2022.
A touching tribute to Mike Brey from former player Jordan Cornette.
PROMOTION: Join for only $29.99 to unlock premium access until the start of the 2023 Notre Dame football season. This is a limited time offer, so act fast!
Quote of the Day
"He was a guy, along with [assistant] Tommy Amaker, I went to the office every day to see. Being a player at Duke can be really heavy. Those guys kept it loose for us, and especially for me as a freshman that ended up earning a starting position early in the season and when there were a lot of expectations for our team.
"The thing I remember about Coach Brey is just how funny he was and how loose he kept everything. I had never met a guy who was a coach who never seemed like he had a bad day. He was always in a good mood, cracking jokes, playing H-O-R-S-E and doing all these trick shots."
– Pittsburgh head coach Jeff Capel on Mike Brey, a Duke assistant coach during his Blue Devils playing career
Headlines of the Day
Notre Dame 2023 quarterback reset: How high can the offense climb with Sam Hartman?
The bad, good and great from Sam Hartman in Wake Forest vs. Boston College
Notre Dame WBB guard Dara Mabrey out for year with ACL injury
What Dara Mabrey knee injury means for the Irish
The Gold Standard: 5 commit candidates for Notre Dame in the 2024 class
Lucky Charms: More on Justin Scott; 2024 CB to visit
This week in Notre Dame history, trivia, and much more
Notre Dame in the NFL: NFC Super Bowl participant will have at least one former Irish player
ESPN way-too-early 2023 All-America team includes two Notre Dame players