Everything Ohio State coach Ryan Day said about Notre Dame football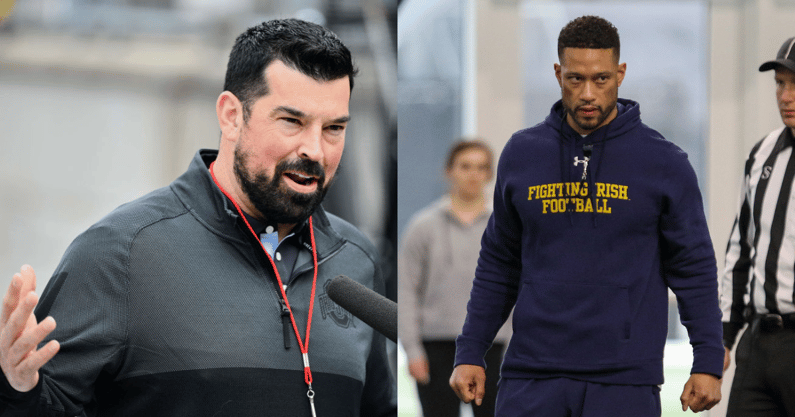 It's not often Ryan Day is the overshadowed head coach in any game he's a part of, but that's the situation he finds himself in this week when his No. 2 Ohio State Buckeyes go against the No. 5 Notre Dame Fighting Irish at 7:30 p.m. ET Saturday.
The Irish's Marcus Freeman is at the forefront of the matchup.
Freeman played linebacker at Ohio State from 2004-08. He was around for some of the most successful years of Jim Tressel's head coaching career. His first regular-season game as a college football head coach comes at the cathedral he made home as a two-time All-Big Ten second-team selection.
Just don't forget about Day, the guy who won Big Ten Coach of the Year honors in his first full season at the helm of the Buckeyes in 2019. Day has compiled a remarkable 34-4 record since he got his first chance to be the man in charge for three games, all wins, as an interim in 2018.
Day has been there, done that. Freeman is just getting his feet wet.
PROMOTION: Sign up for just $1 for your first year at Blue & Gold
Calm, cool and collected as ever, Day spent time Tuesday breaking down Saturday's game. He was asked plenty of Notre Dame-specific questions during his press conference. Here are his answers.
On concerns provided by the Notre Dame defense
"They are coached very, very well. They do a great job of mixing up the different styles of defenses they play. And they have a new defensive coordinator. Certainly Marcus has his hands all over the defense, but now that you have Al Golden there it is a little bit of a different staff. Probably just a little bit of the unknown going into the game."
More on the Irish defense
"They play multiple fronts. They're good, they're strong, they're powerful, they're athletic. The linebackers play hard. They do a good job against the run."
On Freeman's comment that stopping the run and running the ball is the key to victory Saturday
"Yeah, same thing. That's really where we all start, stopping the run. And they do a good job running the football. So we're going to have to do a great job of being assignment sound and playing with fundamentals and doing a great job on third down of getting off the field. But the same thing on offense, you have to be able to establish the run. It's very important and something we've been working very hard on."
On the connections between Notre Dame and Ohio State
"It's interesting. When you look at both staffs, there is a lot of crossover. We have some Notre Dame folks and guys who coached at Notre Dame and vice versa. There are Buckeyes over there or guys who coached here. It's a small world. It's going to be unique, but it's exciting. We're all excited and looking forward to playing Saturday night."
On Notre Dame quarterback Tyler Buchner
"Very athletic. Very talented. Highly recruited. Very talented. I've seen his ability to throw, his ability to run. He's going to do a good job, and we're expecting a high level of play."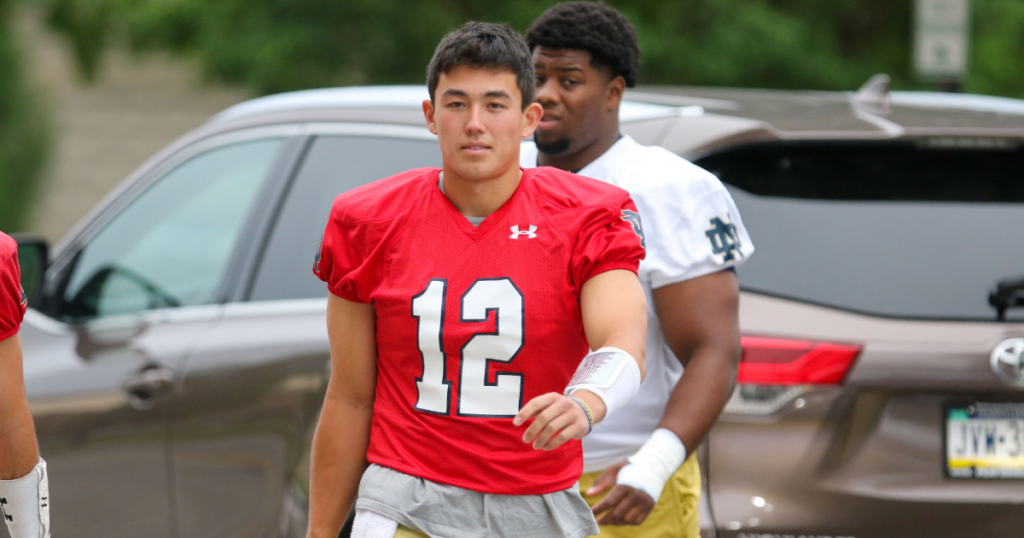 On the rarity of Ohio State playing Notre Dame
"I don't have many thoughts on that, no. It's certainly exciting to be a part of it. Not only is it the 100-year anniversary of (Ohio Stadium), but it's a special matchup having Notre Dame, such a prestigious program, getting together with Ohio State for a home and home. We saw this on the schedule a couple years back, and here we are."
On Notre Dame defensive line coach Al Washington having coached at Ohio State from 2019-21
"Al did a great job while he was here. He's a good friend of mine. Nothing but respect for him. He'll have those guys charged up. Certainly, he knows a lot about this program and what we do. We definitely have to be aware of that and change some things up."
On the magnitude of Saturday's game
"It's hard to appreciate right now because there is so much going on, but when you think about what an opportunity this is for Saturday night just getting Notre Dame and Ohio State together in the first game of the year, 100th anniversary of The Shoe, all of the things combined, what a great opportunity. That's what college football is all about — bringing people back and making it special.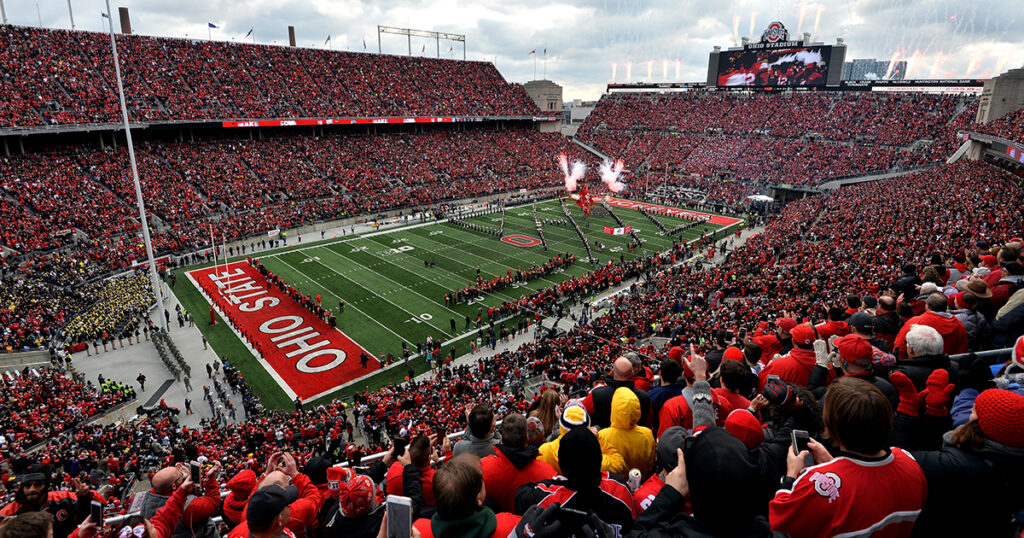 "This is about our players. I talked to them the other day about when you grow up and you're 7, 8, 9, 10 years old and you watch a game on TV on Saturday night and you wake up the next morning on Sunday and you're playing in the backyard and all the sudden you're taking on the personality of the guys you watched the night before. I saw a couple of them nod and I said, 'Well that's going to be you.' I try to remind guys of that every year when we play in environments like this."
More on the magnitude
"The nation will be watching. You get to be front and center while everyone is watching. You wake up the next morning, and that could be you. That's important. It's great for them to realize that. But we can't make it bigger than it is either. We have to make sure we are focused on what really matters. The guys know. This has been on the schedule for a while. As it gets closer you feel it a little more, but we knew this was coming and we've been preparing all summer."
On Irish vyper Isaiah Foskey
"Foskey's a tremendous player. Very athletic. Projected first-rounder. So it's going to be a huge challenge for (our offensive tackles). We have to know exactly where he is at all times."