Forward Elijah Taylor will miss season due to academic issue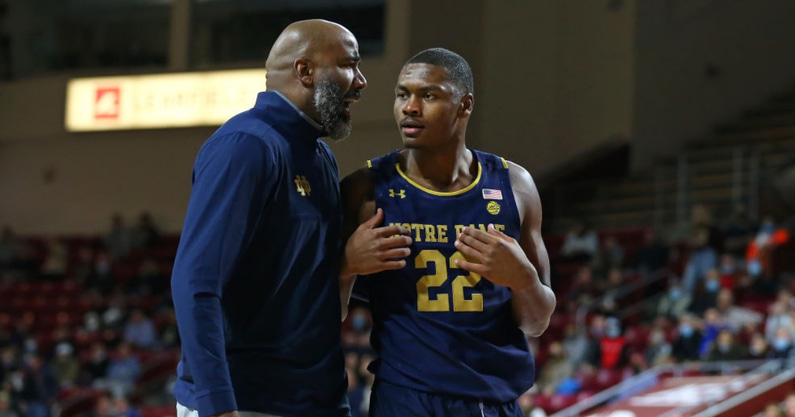 Notre Dame will be down a member of its frontcourt for the foreseeable future.
Sophomore forward Elijah Taylor will not play the rest of the year due to academic issues, head coach Mike Brey said following Wednesday's 72-56 win over Clemson. Taylor did not make the trip to Georgia Tech Jan. 8 and was on the bench in street clothes Wednesday. Earlier in the day, he posted on social media he would be stepping away from the team, but did not provide a reason.
"He has some work to do academically," Brey said. "We love him, we support him. He will be back."
Taylor has played in three games this season, totaling eight points in 6:33 of action. He last appeared in Notre Dame's loss at Boston College Dec. 3. He took a medical redshirt in 2020-21 following December ankle surgery to repair a lingering injury.
A Philadelphia native, Taylor (6-8, 242) was a three-star recruit in Notre Dame's 2020 signing class. He committed to the Irish in September 2019 over finalists Florida, VCU and Seton Hall. He played at Imhotep Institute Charter School and led his team to a 2019 Pennsylvania Class 4A state championship. He was the school's student body president as a senior.
Taylor remains on the roster and can practice while working through the academic issue. He practiced with Notre Dame as recently as Tuesday afternoon.
"He can be part of the team," Brey said. "We're educators, we'll work with him and grow him up to get him going."
One way Brey plans on doing so is calling on a program icon for an assist. Former Irish forward LaPhonso Ellis missed time two separate occasions (three total semesters) due to academic ineligibility. He ended his college career in 1992, though, as a team captain, a 1,500-point scorer, a graduate with an accounting degree and became the No. 5 pick in that year's draft.
Notre Dame inducted Ellis into its Ring of Honor Dec. 11.
"I'm going to have LaPhonso Ellis spend some time with him," Brey said. "When Phonz was inducted into the Ring of Honor, he spoke of bouncing back from an academic misstep."
Notre Dame won its sixth straight game after defeating Clemson, improving to 10-5 overall and 4-1 in the ACC. The Irish are tied for second in the conference standings and are a half-game behind first-place Miami. They play next at Virginia Tech on Saturday (6 p.m., ACC Network).