Notre Dame hockey adds forward with NHL pedigree in family to 2022-23 roster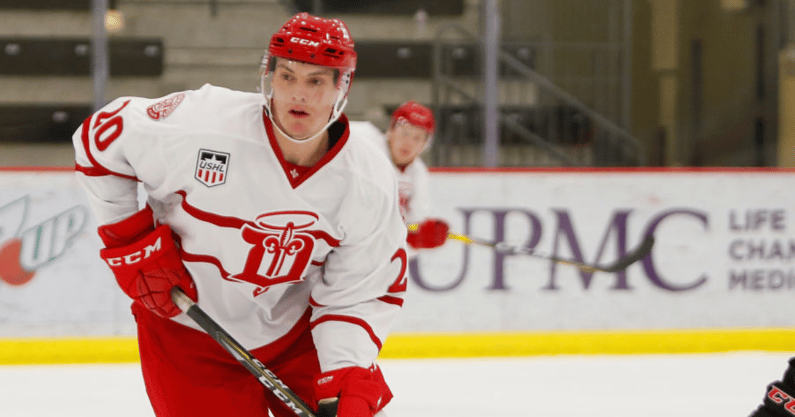 Notre Dame announced the addition of a fourth incoming transfer to the 2022-23 hockey roster Tuesday. Forward Chayse Primeau from the University of Omaha is on his way to play for the Fighting Irish.
He joins fellow transfers Drew Bavaro of Bentley, Ben Brinkman of Minnesota and Jackson Pierson of New Hampshire in that regard. Notre Dame brought in two forwards (Pierson and Primeau) and two defensemen (Bavaro and Brinkman) to bolster depth for the upcoming season.
A graduate transfer hailing from Margate, N.J., Primeau spent four seasons at Omaha. He played in 117 games and registered 29 goals and 43 assists (72 points). He scored nine goals and had 14 assists in each of the last two seasons. Those statistics were good for fifth in points on the Omaha roster this past season.
Primeau played for the Lincoln Stars (2016-17) and Dubuque Fighting Saints (2017-18) of the USHL prior to beginning his collegiate career.
Notre Dame women's basketball
• Notre Dame loses top assistant coach to Rutgers
• Former Notre Dame star wins WNBA Western Conference Player of the Week
Hockey runs deep in the Primeau family. Chayse's father, Keith, was a first-round, No. 3 overall selection in the 1990 NHL Draft. He sustained a 15-year NHL career with the Detroit Red Wings, Philadelphia Flyers and Hartford Whalers/Carolina Hurricanes. He scored 266 career goals, tallying six 20-plus goal seasons and three 30-plus goal campaigns. He added 353 assists for a total of 619 points in 909 games.
Keith Primeau played in 128 NHL Playoff games. He scored 18 goals and dished out 39 assists for 57 points. He saved his best postseason performance for last as a 32-year-old, scoring nine goals with seven assists in the Flyers' 18-game run to the Eastern Conference Finals. The Tampa Bay Lightning beat the Flyers in seven games and ultimately triumphed over the Calgary Flames in Game 7 of the Stanley Cup Final.
Primeau's brother, Cayden, made his NHL debut as a netminder for the Montreal Canadiens during the 2019-20 season. He's played in 18 NHL games since then. He's currently the starter for the AHL's Laval Rocket during the 2022 Calder Cup Playoffs. In six games, Cayden Primeau has posted a goals against average of 1.65 and a save percentage of .949. He has only allowed 10 goals in nearly 400 minutes of game action. Former Notre Dame skater Tory Dello is a teammate of Cayden Primeau at Laval. He has one assist in seven playoff games thus far.
Could the 6-3, 185-pound Chayse Primeau be the next of his kin to reach the NHL? It's entirely possible. The pedigree is in his genes. But first, he'll finish his collegiate career at Notre Dame.