All three Notre Dame men's basketball signees rise in latest On3 rankings update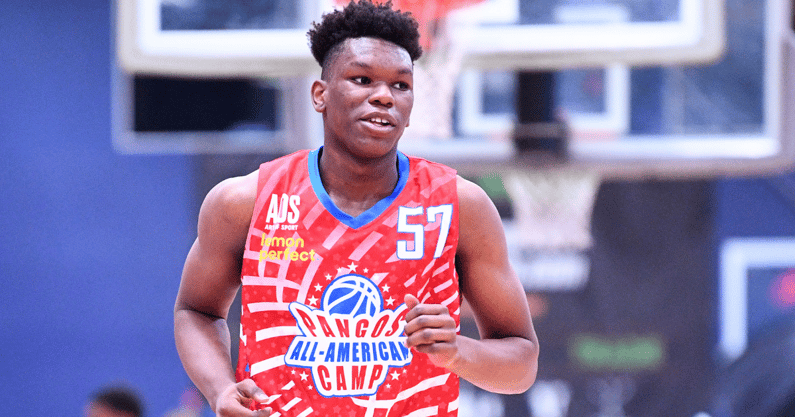 Notre Dame's three 2022 signees are now all top-100 prospects.
On3's latest rankings update, released Monday, gave significant bumps to forward signees Ven-Allen Lubin and Dom Campbell that propelled them from outside the top 150 to inside the top 100.
The 6-8, 220-pound Lubin was one of the biggest risers of anyone in the 2022 cycle, jumping from not rated to the No. 62 player in the class. On3 gave him a player grade of 94, a four-spot bump from 90. He's a four-star recruit out of Orlando Christian Prep in Florida and chose the Irish in November over Clemson, Georgia Tech and Virginia Tech.
Campbell (6-9, 265 pounds) is the No. 96 player in On3's rankings and also was not rated in the prior version. His On3 player grade is a 91, up from 90. The Exeter (N.H.) Phillips Exeter Academy product chose Notre Dame in July over Stanford and Oklahoma. He was the first player to join the Irish's 2022 class.
Point guard signee J.J. Starling remains the highest-rated player in the class by all outlets. On3's ranking update bumped him to No. 21 from 24 – leaving him one spot shy of five-star status. His player grade is 97, up from 95. Starling, who plays for La Porte (Ind.) La Lumiere School, committed to Notre Dame in September over Duke, Stanford, Syracuse and Northwestern.
Starling (6-4, 195 pounds) was named to the boys' McDonald's All-American Game roster in January and will play in the March 29 game in Chicago. He is Notre Dame's first McDonald's All-American since Demetrius Jackson in 2013.
"It's good credibility to have a kid on that team and playing the game in Chicago," Notre Dame head coach Mike Brey said last month. "It's an endorsement for us. We felt good about who we signed, but he was the one — we had to get him. I'm excited to coach him."
Notre Dame has the No. 19 rated class in 2022, per the On3 Consensus Team Recruiting Ranking – a proprietary algorithm that compiles ratings and rankings from all four major recruiting media services and weighs them equally. Per the On3 Consensus player rankings, Starling is the No. 24 recruit in the class, Lubin is No. 82 and Campbell is No. 112 overall. All three are consensus four-stars.
Notre Dame last signed three consensus top-115 recruits in 2018 – forward Nate Laszewski (No. 59 overall), guard Robby Carmody (No. 70), guard Prentiss Hubb (No. 81) and guard Dane Goodwin (No. 90).