How Notre Dame guard Blake Wesley fared in NBA Draft Combine athletic testing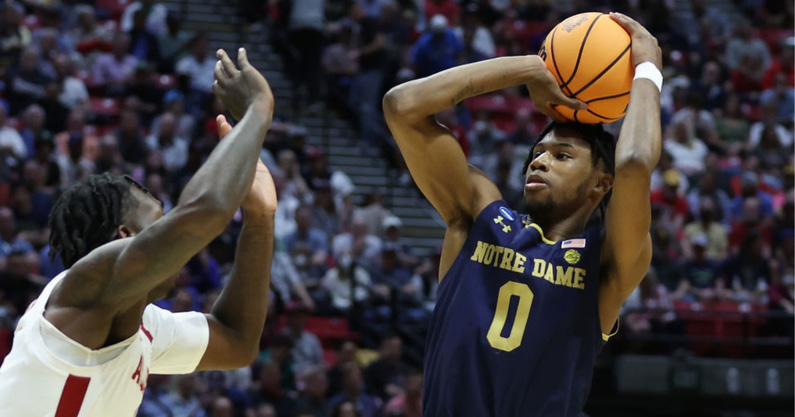 Like his college basketball career, Notre Dame guard Blake Wesley was one-and-done in the workout portion of the 2022 NBA Draft Combine. Wesley participated in athletic testing drills Wednesday, but did not partake in shooting workouts or five-on-five practice. He will not play in scrimmages Thursday and Friday.
It's the risk-averse move, but one that makes sense given Wesley's status as a projected first-round pick heading into the combine. He was appearing in the late teens and 20s in the most recent batch of mock drafts. ESPN's latest mock, released Tuesday, had him as the No. 22 overall pick.
PROMOTION: Sign up for just $1 for your first year at Blue & Gold
Wesley came to Notre Dame as an unheralded freshman nationally, ranked No. 100 in the 2021 On3 Consensus. He had forced his way into the Irish's starting lineup by December, though, and the initial NBA buzz followed shortly after. He ended the year as the Irish's leading scorer, averaging 14.4 points per game. He shot 40.4 percent overall and 30.3 percent on three-pointers while averaging 3.7 rebounds, 2.4 assists and 1.3 steals per game.
The first-round projections didn't wane even as Wesley's efficiency dipped late in the season. He pounced on them and declared for the draft March 30, stating he had no plans to return to school. If he's picked, he will be Notre Dame's first-ever one-and-done draft selection. The last Irish player to be chosen in the first round was Jerian Grant in 2015. Demetrius Jackson, a 2016 second-round pick, was the program's last draft selection.
Six weeks after declaring, Wesley is at one of the pre-draft process' most important events. He will spend the rest of combine week talking with individual teams and holding a press conference Thursday. Workouts with teams will follow in the weeks leading up to the June 23 draft.
Here's how Wesley fared in his combine drills Wednesday and how the results stack up against the rest of the combine field.
RELATED: Notre Dame football:
• Notre Dame post-spring position outlook: safety
• Lucky Charms: Notes on Notre Dame commit Braylon James & QB recruiting
Measurements
Height in shoes: 6-4¼
Weight: 187 pounds
Wingspan: 6-9¼
Standing reach: 8-7
Body fat: 5.6 percent
Hand length: 8.25 inches
Hand width: 9 inches
Testing results
Standing vertical jump: 30 inches (T-15th of 51)
Maximum vertical jump: 36 inches (T-17th of 51)
Lane agility time: 11.55 seconds (45th of 51)
Shuttle run: 3.25 seconds (36th of 42)
Three-quarter court sprint: 3.21 seconds (T-15th of 46)