Spurs take Notre Dame guard Blake Wesley 25th overall in 2022 NBA Draft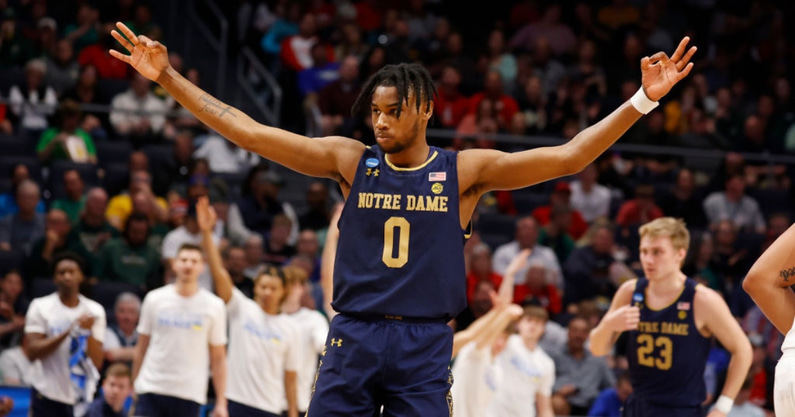 Notre Dame guard Blake Wesley took the first-round projections and went all-in on the 2022 NBA Draft. It proved to be a winning bet.
The San Antonio Spurs took Wesley, the freshman who bloomed into a one-and-done NBA prospect overnight, in the first round with the 25th pick in the draft.
Wesley is the first Notre Dame player to be drafted since guard Demetrius Jackson went 45th in 2016. The Irish's last first-round selection was guard Jerian Grant, who was the No. 19 pick in 2015. All told, Wesley is the 21st first-round NBA Draft pick in program history and seventh draft selection of head coach Mike Brey's 22-year tenure. He's the first-ever Notre Dame one-and-done.
Per RealGM, the first three years of Wesley's contract will be worth $6.177 million. First-round deals are fully guaranteed.
PROMOTION: Sign up for just $1 for your first year at Blue & Gold
CLICK HERE to order the 2022 Notre Dame Football Preview
The selection caps Wesley's rise from fringe top-100 recruit one year ago to the cusp of the NBA. Wesley was the No. 100 player in his class and came to Notre Dame out of South Bend's Riley High School, located just four miles south of campus. Even though he was a 10-minute drive from Brey's office and a priority target since the summer of 2019, Wesley arrived as a bit of a mystery.
Not because of anything he did wrong, though. The recruiting dead period forced by COVID-19 prevented Brey from watching him play in person during his final AAU season and senior year. Brey often watched the local news hoping to find clips of Riley's games. It was as if Wesley was on Pluto, not in Notre Dame's backyard.
That didn't change Wesley's status as a must-get for Notre Dame. It did, though, leave Brey with a less clear idea of Wesley's readiness when he enrolled in June 2021.
Any ambiguity faded fast. A couple weeks of summer workouts revealed an immediate contributor. Preseason practice solidified his place in the rotation.   
"He just really feels he belongs," Brey said before the season. "He's so confident. It started Day 1 in summer school.
"There's a great vibe about him. He's an early substitute and he could be a starter before it's over."
Turns out, Wesley was even more than that. He led Notre Dame in scoring, at 14.4 points per game. He was a go-to option and the Irish's best half-court creator. He also averaged 3.7 rebounds, 2.4 assists and 1.4 steals per game.
Wesley stepped into the starting lineup in his seventh career game, following a 24-point outing in a Nov. 29 loss at Illinois. Save for Notre Dame's Senior Day game vs. Pitt, he never left. He helped guide the Irish to their first NCAA tournament appearance since 2017. First-round buzz began before he had played 10 games. He ended the season with seven 20-point games. He hit the winning shot to topple Kentucky. He stuffed fellow NBA draft prospect John Butler on a vicious dunk against Florida State.
It didn't come without bumps. Wesley shot 10-for-55 during a four-game stretch in late January and early February. He totaled 35 points and shot 15-of-45 with zero three-pointers in Notre Dame's three NCAA tournament games. For the season, he shot 40.4 percent from the field, 30.3 percent on threes and 65.7 percent from the foul line.
His production and consistency fluctuated, but his upside remained high. He ended the season firmly on the NBA radar. The 6-4, 187-pound Wesley showcased his burst, first step and length to NBA evaluators no matter his stat line.
Wesley said knew by the end of the year he was going to turn pro. Brey said he knew he might be losing Wesley sooner than he expected. Sooner than Wesley expected, even. His own plan was to stay for two years. At the NBA Draft Combine, Wesley was asked when he first considered he might have the pro stock to reasonably bolt after one.
"After I played against [Kentucky], I knew I could compete with the best," Wesley said. "I knew I was going to go up from there, be a high-level pro."
That day, he scored 14 points on 6-of-12 shooting – including the winning pull-up jumper with 12 seconds left – against a Kentucky roster full of grown men in a 66-62 win Dec. 11. His belief in himself never wavered from there. He took that confidence, plunged into the NBA Draft pool March 30 and said he'd stay there.
Entering the draft, most mocks predicted Wesley would go between the late teens to late 20s. The Spurs – who also held the No. 9 and 20 picks in the first round – were a popular projected destination for him. They took Baylor forward Jeremy Sochan ninth and Ohio State guard Malaki Branham at 20th.