Notre Dame basketball notebook: Duke game rescheduled, Blake Wesley wins weekly award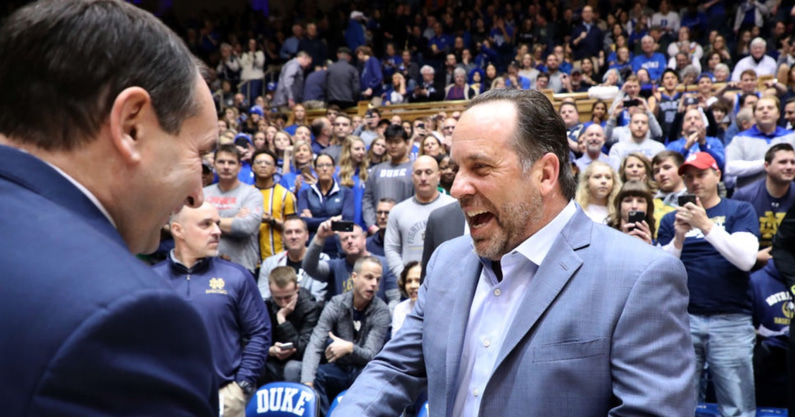 The last scheduled meeting between Mike Brey and Mike Krzyzewski is back on.
Notre Dame will host Duke on Jan. 31 at 7 p.m. ET in the makeup of a game originally set for New Year's Day but postponed due to Blue Devils' COVID-19 issues, the ACC announced Monday.
Tickets for the prior date will be honored for the rescheduled game. Notre Dame sold tickets for that day without a student section because the original date was over winter break. It will have a student section for the makeup. Details of how it will distribute student tickets and honor the old ones are still being worked out.
Jan. 31 will be the final game at Purcell Pavilion for Krzyzewski, who is retiring at the end of the season. Duke is 3-2 in South Bend since Notre Dame joined the ACC in the 2013-14 season.
Brey served as an assistant for Krzyzewski at Duke from 1987-95. He and Krzyzewski have faced each other 15 times since Brey left to become a head coach, with Krzyzewski holding a 10-5 edge. Their most recent meeting was a 93-89 Notre Dame win at Cameron Indoor Stadium on Feb. 9, 2021. Brey is the only ex-Krzyzewski assistant to later beat his former boss as a head coach.
The Jan. 31 game is the only scheduled meeting between Notre Dame and Duke this year.
Notre Dame guard Blake Wesley wins ACC Freshman of the Week
Notre Dame guard Blake Wesley has picked up another weekly honor.
Wesley was named the ACC's Freshman of the Week Monday for the second time this year after helping Notre Dame win two games in the prior few days. The Irish beat North Carolina 78-73 on Jan. 5 and Georgia Tech 72-68 on Jan. 8.
Wesley averaged 20.0 points, 4.0 rebounds, 3.5 steals and 2.0 assists per game in that stretch. He scored 18 points on 8-of-20 shooting with four steals in the defeat of the Tar Heels. He had 22 points in the overtime win over the Yellow Jackets, including a go-ahead three-pointer in the final minute of regulation.
Wesley is second among ACC freshmen and 14th among all Division I freshmen in scoring (14.3 points per game). He is Notre Dame's second leading scorer behind senior guard Dane Goodwin and is shooting 44.4 percent from the field. He is averaging 3.1 rebounds, 2.1 assists and 1.0 steal per game and while shooting 34.2 percent from three-point range.
Notre Dame (9-5, 3-1 ACC) has won five straight games and hosts Clemson on Wednesday (7 p.m. ET, regional sports networks).