Notre Dame guard Blake Wesley receives invitation to NBA Draft green room, per report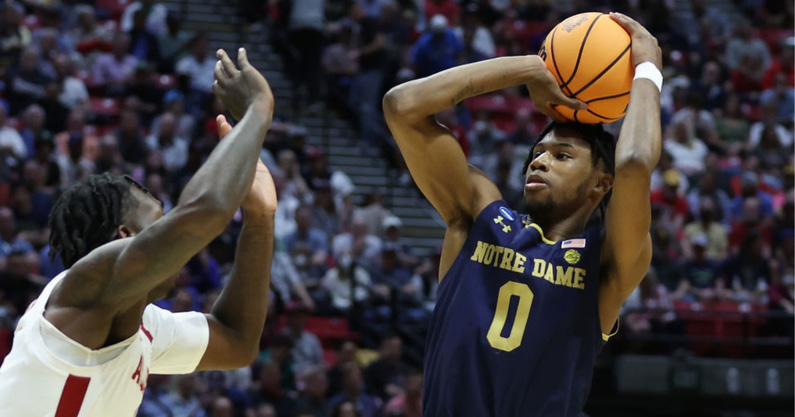 Blake Wesley has the chance to attend the NBA Draft in person. The former Notre Dame guard received an invitation to the draft's green room Friday, according to a report from ESPN's Jonathan Givony. Wesley confirmed by sharing Givony's report on his Instagram story.
Wesley is one of 22 confirmed green room invitees, per Givony. The players invited to it are usually projected first-round picks.
With six days until the draft, that's Wesley's outlook. Givony's Wednesday mock draft has Wesley going No. 20 overall to the San Antonio Spurs. Most mocks predict he will be selected anywhere from the late teens to the late 20s.
PROMOTION: Sign up for just $1 for your first year at Blue & Gold
CLICK HERE to order the 2022 Notre Dame Football Preview
"Wesley is one of the most physically gifted guards in this draft, capable of getting into the paint at will with his strong frame and explosive first step," Givony wrote. "He made strides as the season moved on both defensively and with his ability to create for teammates, and if he can continue to evolve as a shooter, he has the potential to be a real mismatch with the ball in his hands."
The 2022 NBA Draft is June 23 at the Barclays Center in Brooklyn, N.Y. Wesley has spent much of June going through individual workouts with teams. The Miami Heat brought him in for a workout on Thursday. He worked out for the Washington Wizards on Monday. He made prior stops to visit the Spurs, Atlanta Hawks. Denver Nuggets, Cleveland Cavaliers, Charlotte Hornets, Milwaukee Bucks and Detroit Pistons.
RELATED: Notre Dame baseball in the College World Series:
• How College World Series appearance is full circle for Notre Dame, Link Jarrett
• One thing I like, one thing I don't: Notre Dame vs. Texas in the College World Series
The Chicago Bulls and Memphis Grizzlies will reportedly bring Wesley in for a workout before the draft.
Wesley measured at 6-4 and 187 pounds at the NBA Draft Combine in May. He went through athletic testing drills at the combine, but did not participate in shooting workouts or scrimmages.
Wesley, a South Bend native, became Notre Dame's first one-and-done when he declared for the NBA Draft in late March and stated his intent to remain in it. He averaged a team-high 14.4 points per game, shooting 40.4 percent overall and 30.3 percent on three-pointers. He added 3.7 rebounds, 2.4 assists and 1.3 steals per game.
Notre Dame head coach Mike Brey understood Wesley wasn't long for his program. He wanted Wesley back, but didn't pressure him. Once he knew it was inevitable, he had only one request for Wesley.
A seat at Wesley's table in the green room.
"I told him I have to earn that first," Wesley said at the combine.
Now he has.