Notre Dame guard Blake Wesley declares for NBA Draft, Mike Brey says forward Nate Laszewski to test waters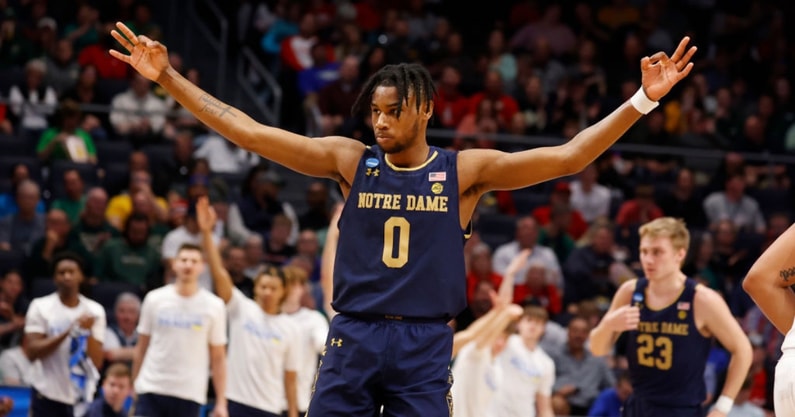 Notre Dame freshman guard Blake Wesley is declaring for the NBA Draft with intention of staying there.
Wesley, the Irish's leading scorer in 2021-22, clarified his next step late Wednesday afternoon with a tweeted statement saying he's turning pro. He confirmed to ESPN's Jonathan Givony he will not return to college.
"I plan on staying in the draft," Wesley told ESPN. "I'm in a great position. I'm ready for the NBA. I'm ready to start my next journey."
Wesley's statement – which was posted to his social media accounts early Wednesday afternoon, deleted and re-shared later in the day – said he is "entering his name in the 2022 NBA Draft" and did not mention any notion of returning to school.
"It has always been a dream and goal for me to play at the next level," Wesley's statement read. "God has a plan for me and I trust him."
The statement and comments didn't align with Notre Dame head coach Mike Brey's Wednesday morning interview on Chicago radio station 670 The Score's Mully & Haugh Show. Brey said on the show Wesley would test the draft process while keeping his college eligibility and leaving the door open for a return. He met with Wesley's family Tuesday night at their South Bend home to discuss the move.
"They're going into this very level-headed," Brey said. "He's a great story in how he's emerged from kind of no one knew him to a potential first-round, top-20 pick. As I told the family last night, if he does what I think he could do in these workouts, if he's a first-round lottery pick and he chooses to go, I will lead the parade out of town. The only thing I said was, 'I better have a seat in the green room at the table.'"
It turns out, Brey has some campaigning to do sooner than expected.
Wesley's predraft process will presumably include workouts and meetings with NBA teams, plus an invitation to the NBA Draft Combine May 16-22. The draft is June 23. Wesley has until June 1 to make a final stay-or-go decision, which he has not officially done, but his stated intentions point toward an eventual move to keep his name in the draft.
The 6-5, 185-pound Wesley averaged 14.4 points, 3.7 rebounds and 2.4 assists this season while shooting 40.4 percent from the field and 30.3 percent on three-pointers. He was a second-team All-ACC selection. He began the season in the rotation, but stepped into the starting lineup for good Dec. 3 at Boston College. The starting debut followed a 24-point outing in a loss at Illinois, which included scoring 14 straight points in the second half.
NBA buzz began to build after that game and soon became widespread. He appeared in the first round of mock drafts later in December and has largely stayed there. ESPN's latest mock draft has him as the No. 20 overall pick, as does Bleacher Report's.
"Teams who can afford to stay patient with their first-round pick will consider Wesley," Bleacher Report draft analyst Jonathan Wasserman wrote. "Even when he struggled to put the ball in the basket at different points of the season, his long-term potential was evident.
"Wesley has an explosive first step, takes long strides, makes shots from three levels and gets into passing lanes. It just may take a few years before he becomes a more nuanced finisher and consistent shooter."
Wesley's consistency came and went during ACC play and in the postseason. He shot just 39.3 percent in conference games. He was 3-of-14 in Notre Dame's second-round NCAA tournament loss to No. 3 seed Texas Tech. He had a four-game stretch in late January and early February where he was 10-of-55 from the field.
The highlights never ceased, though. Wesley's 14 second-half points helped push the Irish past Alabama in the first round of the NCAA tournament. He had six 20-point games in conference play.
Wesley is the first one-and-done in Notre Dame men's basketball history, capping a year of firsts and long streaks snapped. He became the first player from a South Bend public school to pick Notre Dame since 1985. He was a four-star recruit out of Riley High School and the No. 99 overall player in the 2021 class, per the On3 Consensus.
Wesley was the first Notre Dame player in Brey's 22 seasons to score at least 20 points in his debut, pouring in 21 in the season-opening win over Cal State Northridge. He was the third true freshman in the Brey era to score in double figures in eight of his first 10 games.
Brey knew he had a Year 1 impact player in Wesley just days after summer workouts began. He learned just a few games into the season he had a future pro who could take that path as soon as 2022-23.
"As much as I want to coach him again, I've been in this long enough," Brey said. "I remember [1998-2001 Notre Dame forward] Troy Murphy coming into my office and going, 'Coach, I have to go.' I stood up, shook his hand and said, 'Yes you do. Congratulations.' He was the 14th pick and made $70 million."
Brey also said Notre Dame senior forward Nate Laszewski will test the draft waters before making a final decision on whether he will use the COVID-19 waiver to play a fifth season. The 6-10, 230-pound Laszewski averaged 9.3 points and 6.5 rebounds in 33 games (24 starts) and shot 45.6 percent on three-pointers. He made 53.1 percent of his three-point attempts in ACC play, which led the conference. He ranked 13th nationally in true shooting percentage (66.6).
"I told our guys on the bus when we got back from San Diego, 'If you all want to put your name in, put your name in,'" Brey said. "The rules allow you. Do what you need to do. Those two will really evaluate their futures professionally but keep the option open to come back."
Editor's note: This story has been updated.