Notre Dame guard Cormac Ryan confirms fifth-year return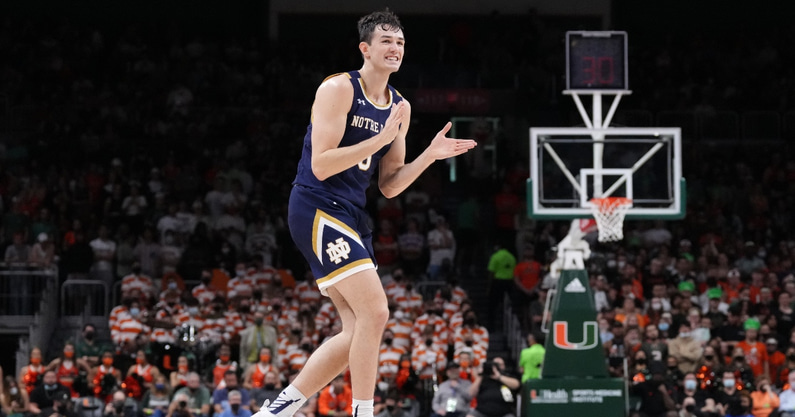 Cormac Ryan dropped the first clue on Senior Day. Mike Brey spilled another on his season recap radio show in April.
Monday, Ryan removed all doubt. The 6-5 guard is returning to Notre Dame for a fifth season, he announced on social media.
Ryan averaged 9.2 points, 4.8 rebounds and 1.9 assists in 35 games as a senior, making 22 starts. He averaged 30 minutes per game, shot 45.4 percent from the field, 40.7 percent on three-pointers and 80.6 percent on free throws. He was Notre Dame's fifth-leading scorer.
PROMOTION: Sign up for just $1 for your first year at Blue & Gold
Ryan began the season in the starting lineup, but left it Dec. 20 when Brey re-inserted guard Prentiss Hubb after Hubb spent three games coming off the bench trying to end an early season rut. An opening to step back into the starting five came Feb. 9 against Louisville, when a lower leg contusion sidelined forward Nate Laszewski.
Brey put Ryan in Laszewski's spot and never took him out the rest of the year. In response, Ryan delivering the most productive stretch of his career over Notre Dame's final 12 games. In that span, he averaged 13.4 points, 5.1 rebounds and 2.2 assists per game while shooting 50.8 percent on threes. His career-high 29 points and seven threes helped the Irish beat Alabama 78-64 in the first round of the tournament.
Ryan was asked following his 15-point outing in Notre Dame's Senior Day blowout of Pittsburgh if he planned on returning for 2022-23. He indicated it was likely.
"I'd love to give another speech sometime," Ryan said.
A month later, Brey strongly hinted at Ryan's return on his final radio show of the year when discussing Notre Dame's 2022-23 goals.
"It's a group that tasted the NCAA Tournament and can talk about, 'What about a Final Four? What about playing all the way to the Final Four?'" Brey said. "That's realistic. If you haven't tasted it, that's not realistic locker room talk, and I can't talk about that."
"Cormac Ryan and Dane Goodwin will talk about that a lot all summer and that's a good thing."
RELATED: Notre Dame football:
• How Notre Dame QB Steve Angeli made the most of his ample spring practice opportunities
• The Gold Standard: What we're hearing about potential June official visitors for Notre Dame
Ryan and Goodwin have since confirmed their returns. Guard Trey Wertz has not made an announcement, but he's expected back for his fifth season. Laszewski is going through the NBA Draft process while maintaining his college eligibility and has until June 1 to decide if he will remain in it or return to school. Guard Robby Carmody has not announced his next move. Save for a six-second senior day appearance, he has not played since December 2019.
Ryan had fifth-year eligibility prior to the NCAA passing the COVID-19 exemption because he redshirted the 2019-20 season after transferring from Stanford. He is eligible through 2023-24. Goodwin and Wertz will use the extra season the COVID waiver granted them to play in 2022-23. Laszewski would too if he returns to college. Hubb declined the COVID year and is pursuing a professional career.
Including Laszewski, Notre Dame has 12 scholarship players as the roster stands. The Irish lost freshman guard Blake Wesley to the NBA Draft and sophomore forward Elijah Taylor to the transfer portal. Paul Atkinson Jr. was their lone player out of eligibility. Notre Dame pulled Niagara grad transfer guard Marcus Hammond out of the portal in late April. He has one season of eligibility left.