Notre Dame men's basketball hosting four-star 2023 forward TJ Power for official visit beginning Sunday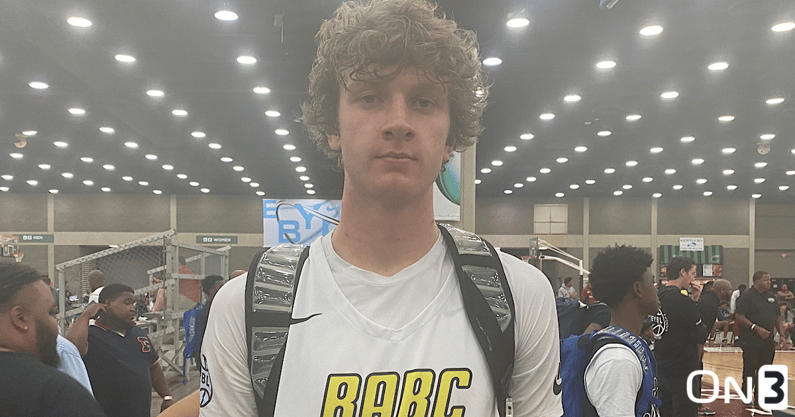 Notre Dame's first class of 2023 official visitor is a fast-rising name in his class. The Irish will host Worcester (Mass.) Academy four-star forward TJ Power, the No. 68 player in the On3 Consensus, for an official visit beginning Sunday.
The 6-8, 210-pound Power added an offer from the Irish this spring after the coaching staff saw him in action with his AAU team during the April evaluation period. He plays for BABC, which is on the Nike EYBL circuit.
PROMOTION: Sign up for just $1 for your first year at Blue & Gold
Notre Dame was one of many teams to jump in the mix for Power this spring. Indiana, Penn, Stanford, USC, Virginia and Xavier have offered since April. They joined a list that already included Boston College, Creighton, Georgetown, Georgia Tech, Iowa, Miami, Oklahoma, Providence, UConn, Virginia Tech and Wake Forest, among others.
Power took an official visit to Iowa last fall. He went to Virginia and Indiana this week before Notre Dame. The Irish have wasted no time in making him a priority.
RELATED: Notre Dame football recruiting:
• Tom Lemming's perspective on Notre Dame landing CJ Carr, Irish 'pulling away' from Michigan
• What happens during a Notre Dame official visit weekend?
"I grade my schools on relationships I have with the coaches, and Coach [Mike] Brey and I are pretty close," Power told On3 national basketball recruiting analyst Jamie Shaw. "Academically it is a great school. Playing in the ACC, they move the ball and share it as well, and the coaches have a lot of confidence in their players."
Power is one of nine uncommitted 2023 recruits Notre Dame has offered so far. One long-standing priority for the Irish in the class is Indianapolis Cathedral forward Xavier Booker, the No. 30 player in the On3 Consensus. Notre Dame is jockeying to get an official visit from him this summer or fall, he told Shaw. He has already taken officials to Kansas State, Indiana, Michigan State and Purdue.
Expert's take on TJ Power
"TJ Power has a toughness about him. At 6-foot-8, that is one of the first things you notice in his game. As the game progresses, you see the full skill set. He is an excellent passer, able to initiate off the rebound or line up across multiple areas on the floor and make plays. The foot speed will be a question, but he understands angles and help-defense.
"We would like to see Power more aggressively look to score at times, but his ability to fill a stat sheet makes everyone on the floor better. Power is also an MLB pitching prospect."
– On3 national analyst Jamie Shaw