Notre Dame a top school for 2023 four-star SF Curtis Williams Jr.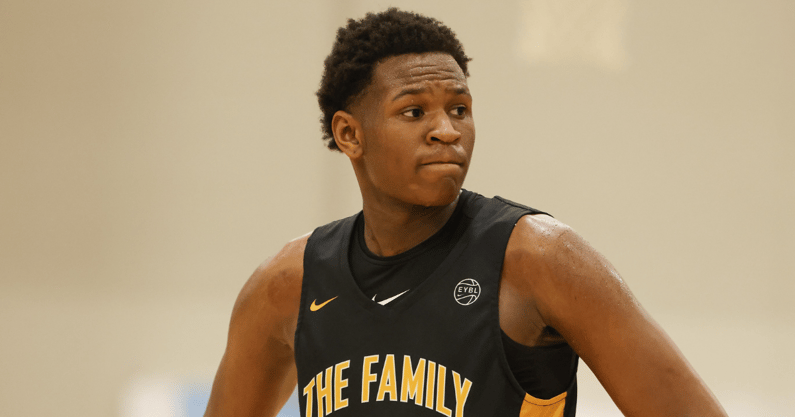 Notre Dame has made the cut for one of its recent 2023 offers.
Bloomfield Hills (Mich.) Brother Rice four-star wing Curtis Williams Jr. included the Irish in his top six, he told On3's Joe Tipton on Wednesday. The other finalists are Alabama, Florida State, Seton Hall, Tennessee State and Xavier.
Williams, the No. 52 player in the 2023 On3 Consensus, added a Notre Dame offer in April after the Irish staff watched him play with his AAU team — Michigan-based Nike EYBL outfit The Family — during both live evaluation periods.
PROMOTION: Sign up for just $1 for first year at Blue & Gold
Interest between the two began long before that, though. Williams and Notre Dame first connected nearly 18 months ago. He came to Notre Dame on an unofficial visit in late October.
"Notre Dame has been building a great connection with me since the beginning of my sophomore year and it's a great program," Williams told Tipton. "When I went on my unofficial visit, I loved it. What they've done with [one-and-done guard] Blake Wesley is impressive so they're pretty high on my list."
Williams said he hopes to set official visit dates in the next couple weeks. He previously told On3's Joseph Hastings he is planning to use one to see Alabama.
The On3 Recruiting Prediction Machine sees Notre Dame as the favorite heading into those visits, giving the Irish a 41.7 percent chance of landing him. Tennessee State is second at 36.5 percent. There are no individual predictions for him yet. Those are the only two finalists that have received unofficial visits from Williams so far, which helped sway the RPM in their favor.
Notre Dame football:
• Cover 3: What is Notre Dame's most wide-open starting job battle after spring practice?
• Three transfers who left Notre Dame the Irish could have used in 2022
Tennessee State, an Ohio Valley Conference program that went 14-18 last season, is in the mix due in part to a personal connection.
"It's an HBCU and their basketball program has gotten extremely better over the years," Williams said. "My uncle went there and considering them is big to him and me."
Notre Dame does not hold any 2023 commitments yet. It sent out five offers in April, though, including Williams. Expect the class to be a larger one with some of the departures after this coming season.
Guard Dane Goodwin, guard Trey Wertz and grad transfer guard Marcus Hammond are all in their final season of eligibility. Nate Laszewski would be if he returns for 2022-23 using the COVID-19 exemption. He is currently going through the NBA Draft process while maintaining his college eligibility. He must decide his next move by June 1.
Williams is the No. 59 player in the 2023 On3 Top 150. Maryland, VCU, Toledo and Tulane were among the other teams to offer him before he trimmed his list.