Notre Dame signee J.J. Starling named to 2022 McDonald's All-America team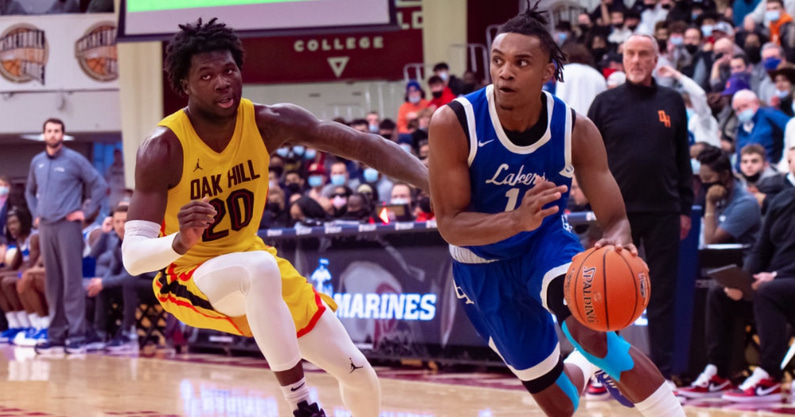 The highest-ranked signee in the Notre Dame 2022 class has earned one of the highest honors in prep basketball.
Guard J.J. Starling has been named a McDonald's All-American, per a Tuesday release. He is one of 24 players on the boys' roster for the 2022 McDonald's All-American Game, which is March 29 in Chicago. Starling — a Baldwinsville, N.Y., native who plays at La Porte (Ind.) La Lumiere School — is the No. 28 recruit in the 2022 class per the On3 Consensus. The four-star guard signed with Notre Dame in November and will enroll this summer.
"I think he deserves it," head coach Mike Brey said earlier Tuesday. "I made that known to some of the people on the committee with how he played in the summer and how he has played this fall. And he moved up in rankings and all that.
"It's good credibility to have a kid on that team and playing the game in Chicago. It's an endorsement for us. We felt good about who we signed, but he was the one — we had to get him. I'm excited to coach him."
Starling (6-4, 185 pounds) is the first Notre Dame McDonald's All-American since guard Demetrius Jackson in 2013. He is the fifth signed during Brey's 22-year tenure and the 17th to ink with Notre Dame out of high school. The Irish have also taken two transfers who were former McDonald's All-Americans.
Notre Dame identified Starling as one of its earliest targets in the 2022 class, and Brey reached out to him the first day coaches could directly contact 2022 recruits. The Irish hosted him for an official visit in early September. He committed to them Oct. 12 over Duke, Northwestern and Stanford.
RELATED
"Just a really explosive guard," Brey said of Starling in November. "The area where I was really impressed this summer was his ability to see the floor and pass it. I didn't know he could do all that. It continues to impress me. He could always score it and shoot it, and physically he's built for it.
"There's a charisma that's infectious and he's an energy guy with his teammates. A lot of young players just kind of play, and maybe they're a little bit of wet blankets. Not that they're selfish, but they don't lift other guys up emotionally with good energy. He just has great juice about him. He's so happy when his teammates do something."
Starling is one of three players Notre Dame signed this fall in a class ranked 25th nationally, according to the On3 Consensus. He joins four-star Orlando (Fla.) Christian Prep forward Ven-Allen Lubin and Exeter (N.H.) Phillips Exeter Academy forward Dom Campbell. Lubin is a four-star prospect and the No. 105 player in the class, while Campbell is a three-star and ranked No. 123.