Notre Dame football 2023 season opener vs. Navy in Ireland officially sells out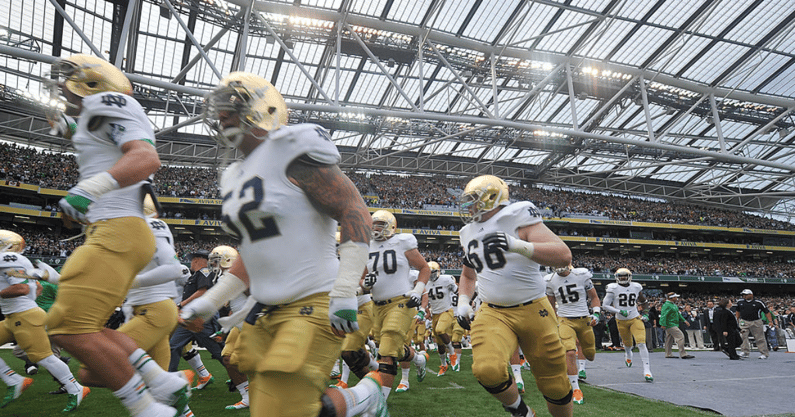 Notre Dame is going to help break an international sports record in August. The Fighting Irish's Aug. 26 season opener at Aviva Stadium in Dublin, Ireland, is officially a sellout, and over 39,000 fans are expected to fly in for the game from the United States. There has never been a single international sporting event in which more Americans made a direct trip to be in attendance, according to Notre Dame.
Per Notre Dame's press release, American travelers are expected to spend an average of seven nights in Ireland. The 2023 Aer Lingus College Football Classic, which kicks off at 2:30 p.m. ET (7:30 p.m. local time in Ireland) is certainly the main event, but Notre Dame's international reach opens up an avenue for fans to experience everything Ireland has to offer.
"The Aer Lingus College Football Classic Series is a really important event for the tourism and hospitality sector in Dublin and all across the island and I am pleased to support the series via funding from Fáilte Ireland and Tourism Ireland," Minister for Tourism Catherine Martin T.D said. "The game in August will also provide opportunities for business, education and other sectoral exchanges between Ireland and US and will further strengthen the cultural, sporting and affinity links between our two countries."
This will be the third time the Irish have played the Midshipmen in Ireland. Notre Dame won 52-27 in 1996 and 50-10 in 2012. The latter game was also played at Aviva Stadium.
This is the first time Notre Dame's game in Ireland is considered an Irish home game. Navy was the designated home team the two previous times. Details for pregame events such as pep rallies, tailgates, medical summits, business networking opportunities and academic events in and around Dublin will be announced by the university in the lead up to the game. 
There will be an official game-week app released in early July per Notre Dame.
On May 23, there were just 95 days until kickoff. The Irish rush right into the 2023 season with an international game, a home game vs. Tennessee State and a true road game at NC State all within a three-week span. The team's first bye week does not come until Oct. 21 after a home game vs. highly-ranked USC on Oct. 14.
Preorder Blue & Gold Illustrated's 2023 Notre Dame Football Preview magazine before June 12 and get free shipping!!! On3 subscribers should go to The Lou Somogyi Board for discounted pricing.