Newsstand: Notre Dame guard Blake Wesley to participate in NBA Draft Combine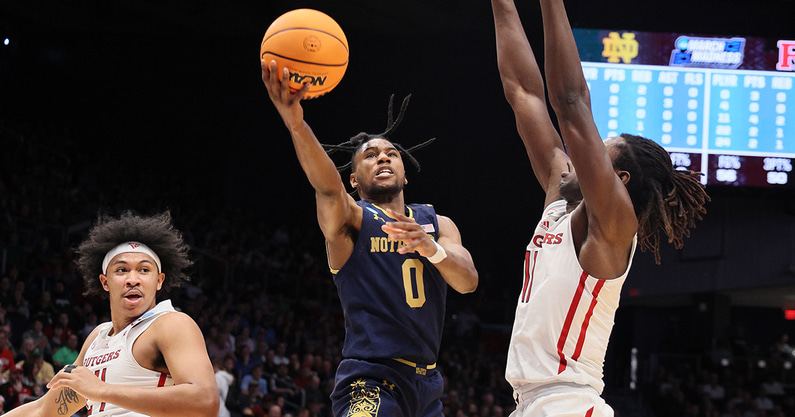 Notre Dame freshman Blake Wesley is officially on the list for one of the NBA pre-draft process' biggest events. Wesley, a 6-5, 185-pound guard, is one of nearly 80 prospects who will participate in the NBA Draft Combine in Chicago May 16-22.
Wesley will not play in five-on-five scrimmages during the combine, according to a report from the South Bend Tribune.
Wesley declared for the draft March 30 and told ESPN's Jonathan Givony he had no plans to return to college. If he remains in the draft as planned, he would be the first one-and-done in Notre Dame men's basketball history. He is widely projected as a first-round pick, appearing as high as the lottery in some mock drafts. Givony's latest mock has him as the No. 22 pick to the Memphis Grizzlies.
Notre Dame signed Wesley as part of its 2021 class. He was a four-star recruit and the No. 100 overall player, per the On3 Consensus. He was the first player from a South Bend public high school to sign with the Irish men's basketball team since 1985. He played at Riley High School, which is about four miles south of Notre Dame's campus.
Wesley averaged a team-high 14.4 points, 3.7 rebounds and 2.4 assists in 2021-22. He shot 40.4 percent overall and 30.3 percent on three-pointers. Notre Dame went 24-11, 15-5 in the ACC and reached the second round of the NCAA Tournament.
Notre Dame has also operated as if he will not be back and filled his spot with Niagara graduate transfer guard Marcus Hammond.
Irish forward Nate Laszewski is also going through the pre-draft process and has until June 1 to decide if he wants to return to school or continue his pro pursuits. He was not invited to the combine or the G League Elite Camp, which is also held in Chicago. He has the option to play a fifth season using the COVID-19 waiver.
The 2022 NBA Draft is June 23.
Notre Dame Tweets of the Day
Mike Brey, in tune with the times.
A very bold prediction from 2023 safety commit Peyton Bowen.
The Irish continue to swing hot bats.
Sign up for Blue & Gold and On3 for the latest Notre Dame athletics coverage, insider recruiting notes, and more! It's just one dollar for the introductory first year. More information can be found on our subscriptions page.
Quote of the Day
"This is the world we're in. Last time I checked, you make pretty good money. So everybody should shut up and adjust."
– Mike Brey, speaking with reporters at ACC spring meetings, discussing his coaching colleagues complaining about NIL and the transfer portal.
Headlines of the Day
Lucky Charms: Latest on the Notre Dame running back board (Mike Singer, Blue & Gold)
Four-star CB Calvin Simpson-Hunt sets Notre Dame official visit (Sam Spiegelman, On3)
Kyle Hamilton's father weighs in on NIL: 'Kyle was the test case for Notre Dame' (Ashton Pollard, Blue & Gold)
Kyle Hamilton already has an ally with Ravens in former Notre Dame OL Ronnie Stanley (Patrick Engel, Blue & Gold)
Is Notre Dame the reason the ACC is reportedly ditching football divisions? (Tyler Horka, Blue & Gold)
Brady Quinn sounds off on reported NIL crackdown: 'The NCAA is a joke' (Ashton Pollard, Blue & Gold)
Four-star WR Jaden Greathouse enjoys first Notre Dame visit; has official visits planned (Mike Singer, Blue & Gold)
Notre Dame on the road: Al Washington checking in on elite 2024 EDGE (Mike Singer, Blue & Gold)
Where new Irish guard Marcus Hammond stands in 2022 transfer portal rankings (Patrick Engel, Blue & Gold)