After the draft: A Notre Dame NFL undrafted free agent tracker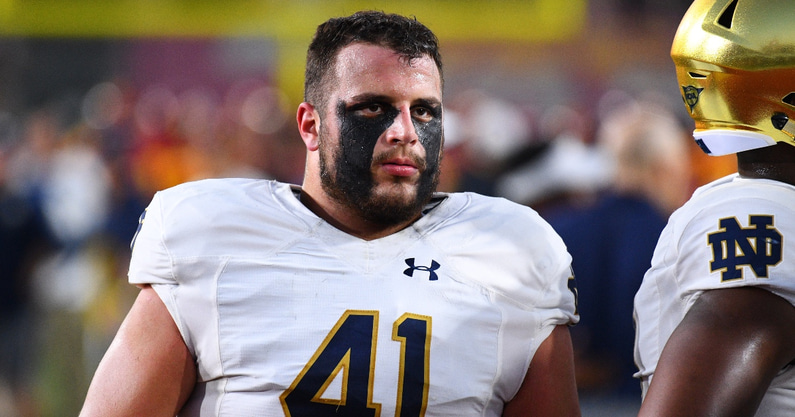 The 2022 NFL Draft has now concluded, and just two Notre Dame players were selected: safety Kyle Hamilton and running back Kyren Williams.
There are eight additional Irish NFL hopefuls looking to sign with teams as undrafted free agents. Here is a tracker showing where former Notre Dame players are signed, which will be updated as the news comes.
Defensive lineman Kurt Hinish
One of the biggest personalities on the Irish's team for the last few years is headed to the Houston Texans. The move was first reported by Matt Freeman of Irish Sports Daily.
To say the Pittsburgh native has been a staple in the Notre Dame program is an understatement. Hinish holds the program record for most game appearances with 61. He played in double-digits games in each of his five seasons.
Hinish recorded 83 tackles, 20 tackles for loss, 7.5 sacks and a forced fumble during his tenure. While it doesn't show up on the stat sheet, the energy and personality Hinish brings to a locker room is nearly unrivaled. His teammates loved him, as is evidenced by his captainship as a senior.
Wide receiver Kevin Austin
Austin didn't hear his name called in Las Vegas, but he has to be happy he's headed back to his home state of Florida. The 6-3 boundary wideout will reportedly sign with the Jacksonville Jaguars.
Austin played just one full season of football for the Irish, but it was a big one. He caught 48 balls for 888 yards and seven scores.
The wideout was hopping to be drafted after improving his draft stock at the NFL Combine and Notre Dame's pro day. He ran a 4.43 40-yard dash in Indianapolis and had a vertical of 39 inches. It definitely caught the eye of some NFL scouts and media members, but he will have to settle for a free agent contract.
Linebacker Drew White
Like Austin, White hails from Florida. He will be heading back to the East Coast, but it will be a little farther north. White has signed with the Washington Commanders.
Also a team captain in 2021, White recorded a total of 199 tackles, 21.5 tackles for loss, five sacks, four pass break-ups and four fumbles recoveries over 41 games. Ranked No. 552 overall by On3 Consensus coming out of high school, White now finds himself with an opportunity to prove his worth in the NFL.
Defensive lineman Myron Tagovailoa-Amosa
It's not Hawaii, but it's pretty darn close relative to where Tagovailoa-Amosa could have landed. The Hawaii native has signed a contract with the Las Vegas Raiders, per ESPN's Paul Gutierrez.
An Irish team captain, Tagovailoa-Amosa started 12 games during his senior season to cap a career in which he was a three-year starter. He recorded 25 tackles (6.0 for loss) and two sacks in his final season in South Bend. The sacks came in the same game — Notre Dame's home-opener against Toledo. The second of those sacks ended the Rockets' final drive of the game. He finished his career with 81 total tackles, 17.0 tackles for loss and 5.5 sacks. 
Previously a defensive tackle, the 6-2 1/2, 268-pound Tagovailoa-Amosa translated to the next level as a "tweener" — a player who's seen by scouts and front office professionals as someone who will have a hard time carving out a role at a specific position because of his body type and subsequent skills. 
Quarterback Jack Coan
Ahead of the 2022 NFL Draft, Notre Dame was poised to have quarterbacks drafted in back-to-back years for the first time since 1979-80. It ultimately did not come to fruition, but the next-best scenario did.
The Indianapolis Colts have signed quarterback Coan as an undrafted free agent, keeping him in-state in Indiana. In 2021, the New York native started 13 games for the Irish, throwing for 3,150 yards with 25 touchdowns and seven interceptions. He completed 65.5 percent of his attempts.
Prior to his arrival in South Bend, Coan was a four-year player and two-year starter at Wisconsin. His senior season was wiped out by injury, but he started 18 games between 2018-19 for the Badgers. His complete stat line from Wisconsin is as follows: 3,278 yards, 23 touchdowns and eight picks.
Linebacker Isaiah Pryor
Pryor is a native of Georgia, and he's heading back down South after signing with the New Orleans Saints on Sunday.
The 6-1, 217-pound defenseman had a total of 97 tackles over three years at Ohio State and two at Notre Dame. He returned for another year with the Irish, and it proved to be a wise decision, as 42 of those 97 stops came in 2021. In five years he also had three sacks, an interception and seven pass break-ups. 
As is evidenced by those statistics, Pryor is incredibly versatile. In 2021, per Pro Football Focus, he played 29 snaps on the defensive line, 129 in the box, 25 aligned at free safety and 98 in the slot. The Saints will be able to utilize him in a variety of capacities as they continue to build a Notre Dame presence in New Orleans; he is the fifth player now with the team, as Ian Book, Josh Adams, Tony Jones Jr. and Keivarae Russell are also members of the Saints organization.