Countdown to kickoff: Notre Dame vs. Ohio State is only 77 days away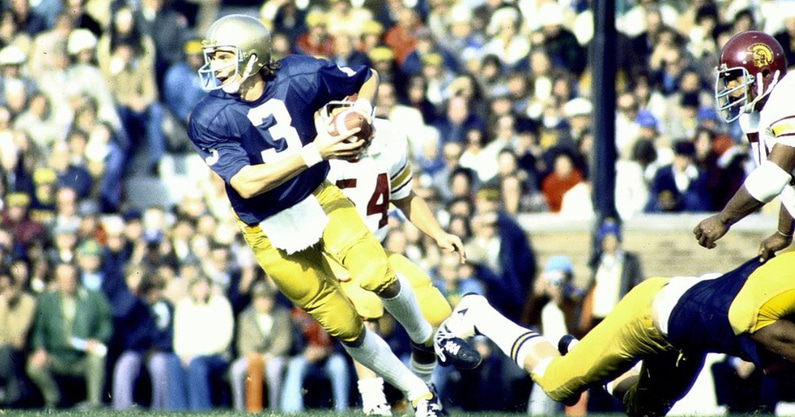 To preview one of the most anticipated games for Notre Dame this century and the official start of the Marcus Freeman era, BlueandGold.com is counting down the days to the matchup against Ohio State on Sept. 3.
This daily series of 99 stories celebrates by the numbers some of the most notable names, dates, moments and memories related to the past and present of Notre Dame football.
With 77 days left until kickoff, we look back at Notre Dame's 1977 national championship team.
It began as title or bust.
PROMOTION: Sign up for just $1 for your first year at Blue & Gold
CLICK HERE to order the 2022 Notre Dame Football Preview
Sports Illustrated predicted a championship. The first Associated Press poll gifted a No. 3 ranking. Notre Dame rode the good vibes of a Gator Bowl victory over Penn State all offseason. Every defensive starter returned. So did four All-Americans. Everyone and anyone affiliated with or fond of the Irish was ready to tell you Dan Devine's team was coming, and you'd better brace yourself.
A 19-9 road defeat of No. 7 Pitt in the opener threw kindling on the fire.
The next week dumped a big ol' bucket of water on it. Notre Dame's offense spun its wheels in a 20-13 loss to unranked Ole Miss. Balloon, meet pin. A season suddenly on the cusp of unraveling due to quarterback problems, a sputtering offense and a defense given little no margin for error.
It wasn't supposed to go like this.
Devine yanked starter Rusty Lisch for senior Gary Forystek during a Week 3 game against Purdue, which breathed life into the offense. It ended involuntarily when Purdue linebacker Fred Arrington walloped him on a play and knocked him out for the game (and for good). Lisch came back with Notre Dame trailing 24-14 in the second half.
Not exactly inspiring.
That's when Devine made the bold call to insert the third-stringer, a senior named Joe Montana who hadn't played at all the previous year due to a shoulder issue. It felt desperate. But it worked. Montana tossed a pair of touchdowns to All-American tight end Ken MacAfee, the Irish filched a win and had a path forward.
"When Joe stepped in, it made all the difference in the world," Notre Dame All-American Luther Bradley said.
Montana and a re-energized defense quickly became the lodestars. In Montana's third start, the Irish dusted No. 5 USC 49-19 and announced their revival. Never-in-doubt wins against Navy and Georgia Tech followed. Montana led a 10-point second-half comeback in a 21-17 road win over No. 15 Clemson.
By that point, the Irish were back in the top five. They ended the regular season on a nine-game winning streak, earning a No. 5 ranking and a matchup with No. 1 Texas in the Cotton Bowl. Win it, and the title could be theirs with enough chaos in the top four.
They were pegged as heavy underdogs, though. The Longhorns were undefeated and had the Heisman Trophy winner in running back Earl Campbell. A win would make them the no-doubt champion. It felt like an on-paper mismatch.
RELATED: Notre Dame baseball:
• How Notre Dame pitchers turned in another gem to beat Texas in College World Series
• Notre Dame beats Texas in College World Series opener, will face Oklahoma on Sunday
In the end, it was a waxing – the other way around.
Notre Dame forced six turnovers, took a 24-3 lead in the second quarter and put a brick on the gas pedal. The Irish won 38-10. They toppled No. 1 and. Furthermore, No. 2 Oklahoma and No. 4 Michigan lost their bowl games. Notre Dame's title hopes seemed to hinge on No. 3 Alabama's Sugar Bowl performance.
The Crimson Tide dispatched No. 9 Ohio State 35-6. Stick to natural order, right? A four-touchdown win over a top-10 team ought to be enough to keep them above Notre Dame.
Nope. The voters jumped the Irish over Alabama in the final AP poll, therein awarding them the national championship. A mere 48 points separated the two teams in the poll.
Expectations met, all told. Just now how anyone envisioned.
"It's one of those things that means more and more as the years go by," Montana said. "You look back and you recognize how difficult it was to get to that point.
"Winning a national championship is right up there with all of the Super Bowls. I keep that ring with all the rest of my rings."