Notre Dame WR Avery Davis to return to Fighting Irish for sixth season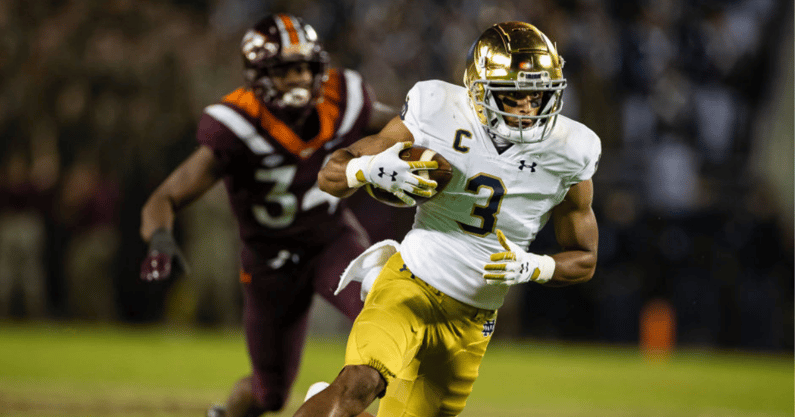 A captain, a leader and one of the most respected players in the Notre Dame locker room is coming back for a sixth season.
Wide receiver Avery Davis announced via social media he will return for one final year of eligibility in 2022. Davis' 2021 season was cut short after he tore his ACL against Navy on Nov. 6.
"Fall down five times, get up six," the "super" senior wrote on Instagram. "One last year at ND."
Davis has been through a bit of everything since arriving as a four-star recruit out of Cedar Hill (Texas) High School in 2017. He played quarterback at Cedar Hill and was the only QB taken by the Irish in his class. He didn't last long as a signal-caller; he redshirted and switched to running back.
Davis rushed for 70 yards on 22 carries and caught five passes for 30 yards in 2018. His stay in the running back room didn't last long, either. He made a transition to cornerback during the 2019 offseason. That was the shortest stay of all. By the time the season started, he nestled into a role at slot receiver.
And that's where he ultimately stayed.
Davis has caught 61 passes for 862 yards and eight touchdowns, none bigger than his game-tying score against Clemson in the final minute of Notre Dame's victory over the No. 1 team in the country in 2021. He had 27 catches for 386 yards and four touchdowns before his ACL injury.
Davis' rehab timeline will make his return an interesting one. He won't be available for spring practices in a few months, and fall camp is also likely out of the picture. Obviously, Davis and the Notre Dame coaching staff are banking on his availability at some point in the fall.
Even while Davis won't be able to participate in practices as a player, though, the Irish are getting a voice back in the room that resonates with everyone — from teammates to offensive coordinator Tommy Rees.
"You want to talk about a resilient young man who has never complained once and has done everything this program has asked of him," Rees said. "That kid, whatever he needs the rest of his life, he has an ally. He's an unbelievable young man."
Davis joins Braden Lenzy as Notre Dame senior wide receivers who have elected to return to campus in 2022. Lenzy announced his decision to do so last week. Fellow senior Kevin Austin Jr. decided to declare for the 2022 NFL Draft.
Notre Dame now awaits the decision of Joe Wilkins Jr., who was also lost for the season with a knee injury last season. If he returns, the Irish are sitting at seven scholarship wide receivers. If he leaves, they have six; Davis, Lenzy, true freshman Tobias Merriweather and sophomores Lorenzo Styles, Deion Colzie and Jayden Thomas.
The NCAA transfer portal is generally littered with wide receivers, but Notre Dame isn't usually a destination for them because of stricter academic requirements. The Irish might very well have to rely on a select few players at the position, like they did this past season with Austin, Lenzy, Davis before the injury and Styles.