Two Notre Dame women's basketball players earn AP All-America honors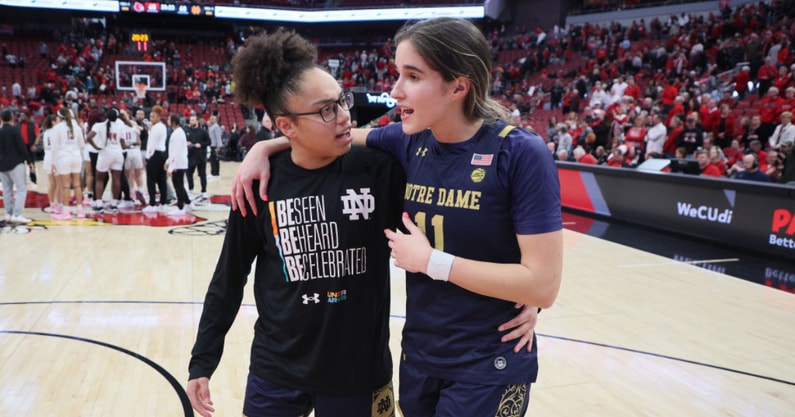 With two days until the NCAA Tournament begins, Notre Dame women's basketball had two of its most distinguished players earn Associated Press All-America accolades for their efforts in the 2022-23 season. Sophomore point guard Olivia Miles made the AP All-America Second Team. Fellow sophomore guard Sonia Citron received an AP All-America Honorable Mention nomination.
This year's honorees were decided by a 28-member national media panel.
Sign up for Blue & Gold and On3 for the latest ND athletics coverage, insider recruiting notes, and more! It's just $29.99 for a limited time for new subscribers. More information can be found on our subscriptions page.
Citron leads Notre Dame (25-5) with 14.7 points per game. Miles ranks second at 14.3 and ranks first in rebounds (7.2), assists (6.9) and steals (2.1). She set the all-time Notre Dame record with her third triple double with 14 assists, 13 points and 13 rebounds versus Merrimack College on Dec. 10. Her defining moment of the season, though, was an overtime buzzer-beater to lift the Irish to victory over Louisville on Feb. 16.
Citron scored 27 points against the same Louisville team 10 days later. Miles went down with a knee injury in the first half of the game. She only scored 2 points. Citron took over from there. Later that week in the ACC Tournament quarterfinals versus NC State, Citron poured in a season-high 28 points. She also grabbed 9 rebounds and dished out 5 assists playing the do-it-all role usually reserved for Miles.
Citron is healthy and ready to roll in No. 3 seed Notre Dame's NCAA Tournament opener vs. No. 14 seed Southern Utah (23-9) at Purcell Pavilion in South Bend at 3:30 p.m. ET Friday (ESPN2). Miles' status in recovering from the knee injury is still in flux. She has not appeared on the court since suffering the ailment on Feb. 26.
Here's a look at all of the 2022-23 AP All-America teams. Players earned honorable mention status if they appeared on at least one of the 28 ballots. A full list of honorable mention recipients was not revealed.
FIRST TEAM
Aliyah Boston (F, South Carolina)
Caitlin Clark (G, Iowa)
Maddy Siegrist (F, Villanova)
Angel Reese (F, LSU)
Mackenzie Holmes (F, Indiana)
SECOND TEAM
Elizabeth Kitley (F, NC State)
Cameron Brink (F, Stanford)
Diamond Miller (G, Maryland)
Olivia Miles (G, Notre Dame)
Alissa Pili (F, Utah)
THIRD TEAM
Ashley Joens (G, Iowa State)
Aaliyah Edwards (F, UConn)
Aneesah Morrow (F, DePaul)
Haley Jones (G, Stanford)
Zia Cooke (G, South Carolina)