Notre Dame WBB guard Dara Mabrey out for year with ACL injury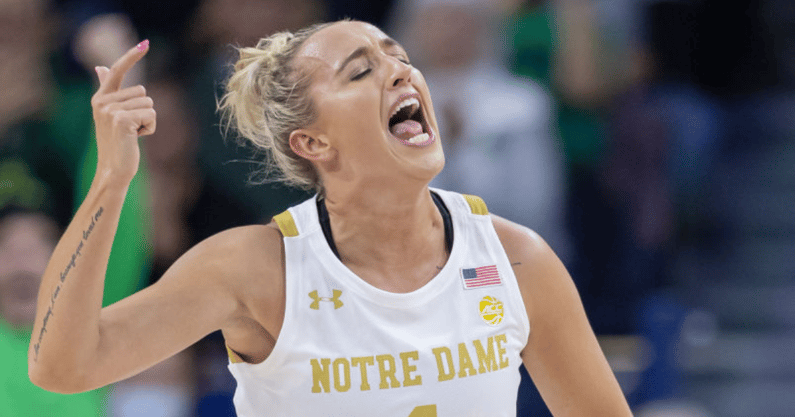 Notre Dame is down a starter for the rest of the season. Graduate student guard Dara Mabrey announced Monday night that she's out for the year with a torn ACL and tibial plateau fracture in her right leg.
Mabrey suffered the blow in Notre Dame's game Sunday vs. Virginia. She went to the rim for a transition layup attempt in the second minute of the matchup. She was fouled, and she went down awkwardly. Something seemed off with her right leg from the moment she went airborne. She stayed on the court for a few minutes, writhing in agony, before being helped to the locker room with tears in her eyes.
Mabrey watched most of the second half of Notre Dame's 76-54 victory with her leg propped up on chairs and a big brace on her knee at the end of the Irish bench. She left the court after the game on crutches.
RELATED: What Mabrey's absence means for Notre Dame WBB
• What Dara Mabrey knee injury means for Notre Dame women's basketball
Mabrey thanked her family, coaches, teammates and medical staff for being there in one of the toughest moments of her career. She wrote that she's ready to help No. 7 Notre Dame (16-2, 7-1 ACC) continue its successful season from the sideline.
"While it certainly is not the way that I wanted to go out, I'm confident that everything happens for a reason," Mabrey wrote in her social media post. "I know that I will find peace with my situation as I recover in the coming months."
PROMOTION: Join for only $29.99 to unlock premium access until the start of the 2023 Notre Dame football season. This is a limited time offer, so act fast!
Mabrey has started all 18 games for Notre Dame this season. The shooting guard was averaging 9.3 points in 29.2 minutes per game. She's made the most three-pointers (33) of anyone on the Irish roster, but she was shooting a career-low 29.5 percent from long range. Mabrey made 301 threes in her career across five seasons at Virginia Tech and Notre Dame. No other player in program history has made more.
Head coach Niele Ivey called Mabrey the heart and soul of the Irish in Sunday's postgame press conference. She said the goal from the moment Mabrey went down was to win the game in honor of the team's most veteran player. Mabrey played in 135 games with 125 starts in the last five seasons. She started all 71 games for Notre Dame in the last three.
In an unintentional ode to Mabrey's three-point prowess, sophomore guard Sonia Citron hit 6-of-7 shots from beyond the arc to lead Notre Dame with 20 points against the Cavaliers.
"I played for her today," Citron said. "She was definitely in my mind the whole game. That's one of my best friends. All you can do is play for her, and that's what I did today."
Notre Dame stays at home for its first game without Mabrey in the lineup since 2020 for a ranked matchup against No. 24 Florida State (18-4, 7-2) at Purcell Pavilion on Thursday at 8 p.m. ET (ACCNX).