How transfer portal adds affected Notre Dame women's basketball in ESPN's way-too-early top 25 rankings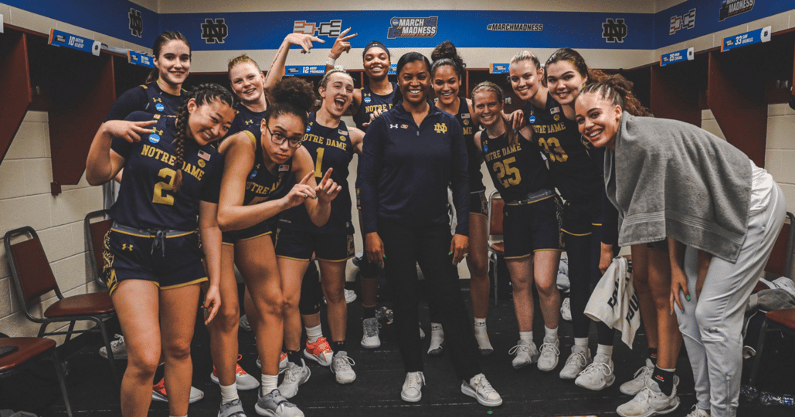 Is it possible Notre Dame got better over the last month? ESPN women's basketball analyst Charlie Creme seems to think so.
Immediately after the 2021-22 season finished, Creme ranked Notre Dame No. 9 in his way-too-early 2022-23 top 25 rankings. That shouldn't have been surprising. The Fighting Irish were seconds away from an Elite Eight berth and were set to return just about everybody from the roster that nearly made that happen.
Or so they thought.
Notre Dame ended up losing exactly one-half of the active scholarship players who guided it to the Sweet 16. Center Maya Dodson's NCAA eligibility waiver was denied. She was selected in the third round of the WNBA Draft. Forward Sam Brunelle and guards Anaya Peoples and Abby Prohaska entered the transfer portal and have already found their new destinations.
Notre Dame had eight healthy players on scholarship. Four of them left the program.
PROMOTION: Sign up for just $1 for your first year at Blue & Gold
Head coach Niele Ivey and her coaching staff have already replenished the roster with four new additions. One, of course, is McDonald's All-American and class of 2022 signee KK Bransford. The other three came from the portal — Stanford guard Jenna Brown, Oregon State forward Kylee Watson and Texas center Lauren Ebo.
The swaps weren't straight up. None of the players brought in, for instance, can match what Dodson did as a defensive post presence. But Watson and Ebo, both 6-4 like Dodson, can work in tandem to protect the paint to the best of their abilities. Brown can try to match the energy Peoples and Prohaska provided off the bench. Bransford is a totally different player than Brunelle, but she is elite in so many areas — including putting the ball in the bucket. She's arguably a better scorer as a 5-10 guard than any of the players Notre Dame lost.
Clearly, Creme took that into account. And he weighed everything else to come to a conclusion that Notre Dame should be ranked No. 7 in his latest edition of the way-too-early top 25 rankings — two spots higher than where the Irish checked in a month ago with a starkly different roster outlook.
Here's Creme's complete explanation for Notre Dame's placement:
"The transfer portal has taken in South Bend. It also has given back. At the time of the first edition of this list, the Fighting Irish had lost much of their depth. But with recent additions Lauren Ebo (Texas), Kylee Watson (Oregon) and Jenna Brown (Stanford), the losses of Sam Brunelle, Anaya Peoples, Abby Prohaska and Maya Dodson (denied her extra year of eligibility by the NCAA) don't seem as problematic. Notre Dame's place in the top 10 is even more solidified.
"The 6-4 Ebo will give the Irish a physical inside presence and screener to free up the perimeter talent of Olivia Miles and Dara Mabrey, who will now have Brown as a backup. Sonia Citron and Maddy Westbeld are the last two ACC Rookies of the Year, giving coach Niele Ivey numerous offensive options."
Here's a look at the full set of rankings.
ESPN's way-too-early NCAA women's basketball top 25 rankings
South Carolina
Connecticut
Stanford
Texas
Iowa
Tennessee
Notre Dame
Iowa State
Louisville
North Carolina
Indiana
NC State
Oklahoma
Virginia Tech
Ohio State
Maryland
Arizona
Oregon
Utah
Baylor
South Dakota State
LSU
Princeton
Nebraska
Creighton