How to watch Notre Dame women's basketball vs. Southern Utah in NCAA Tournament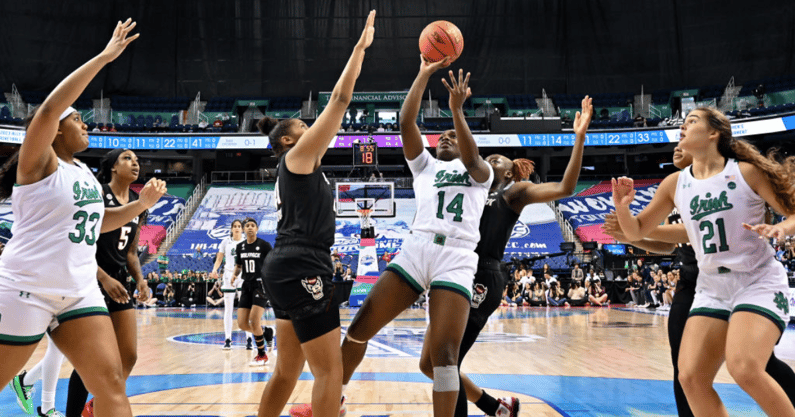 It's NCAA Tournament time for the Notre Dame Fighting Irish in South Bend, Ind. For the first time in four years, the Irish are playing a tournament game on their home floor.
Head coach Niele Ivey's team won the outright ACC regular season title to earn a No. 3 seed in the big dance. The Irish went 15-3 in league play and 25-5 overall. They're hosting No. 14 seed Southern Utah (23-9) at Purcell Pavilion on Friday at 3:30 p.m. ET.
Notre Dame will be playing without sophomore point guard Olivia Miles for however long the Irish stay alive in the tournament. She's out for the season with a knee injury.
"My focus now is on this team," Ivey said Thursday. "Excited for this opportunity to play here back in South Bend. [We are] a team that has overcome a lot of adversity, and I'm super excited that we brought the regular season ACC title back to South Bend. Looking forward to trying to make a deep run in the tournament."
Here is everything to know about the matchup.
Southern Utah at Notre Dame game information
NCAA Tournament round of 64
Tipoff time: 3:30 p.m. ET on Friday, March 17
TV: ESPN2 (Streaming on Watch ESPN)
Announcers: Jenn Hildreth & Mike Thibault
Series history: First-ever meeting
More on Notre Dame
Head coach: Niele Ivey
Record: 25-5
NET ranking: No. 8
ACC Tournament result: Lost in semifinals
Last five games: Pittsburgh (W, 83-43), Georgia Tech (W, 76-43), Louisville (W, 68-65), NC State (W, 66-60), Louisville (L, 64-38)
Top scorers: Sonia Citron (14.7 ppg), Olivia Miles (14.3 ppg)
Top rebounders: Olivia Miles (7.2 rpg), Maddy Westbeld and Lauren Ebo (6.5 rpg)
Top assisters: Olivia Miles (6.9 apg), Sonia Citron and Dara Mabrey (2.4 apg)
More on Southern Utah
Head coach: Tracy Sanders
Record: 23-9
NET ranking: No. 133
WAC Tournament result: Won
Last five games: California Baptist (W, 83-75), Grandon Canyon (W, 71-63), New Mexico State (W, 62-61), Grand Canyon (W, 64-51), California Baptist (W, 82-73)
Top scorers: Cherita Daugherty (15.3 ppg), Tomekia Whitman (12.0 ppg)
Top rebounders: Lizzy Williamson (10.0 rpg), Megan Jensen (5.8 rpg)
Top assisters: Daylani Ballena (3.9 apg), Cherita Daugherta (3.5 apg)
More pregame reading
• Four things to know about Southern Utah
• What the Olivia Miles season-ending injury means for Notre Dame women's basketball
• How Notre Dame PG Olivia Miles can learn from Niele Ivey and find a silver lining in her knee injury