Newsstand: How former Notre Dame women's basketball player joined elite company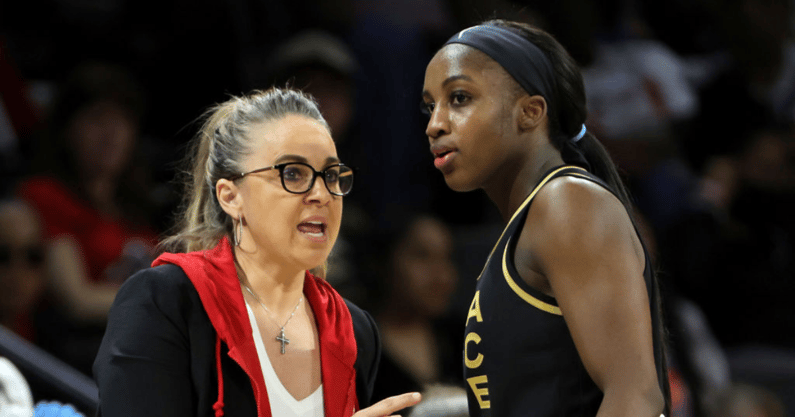 Notre Dame women's basketball alumni are used to winning. Jackie Young is a perfect example.
Young won a WNBA championship with the Las Vegas Aces Sunday. With the victory, Young became the second ever former Irish women's basketball player to win an NCAA national title, an Olympic gold medal and a WNBA title. Ruth Riley is the other to earn all three of those accolades.
Young was a member of the 2018 Notre Dame national championship team. She won her gold medal as a member of Team USA's 3×3 team in 2020. She averaged 12.4 points per game in the Aces' nine playoff games. Las Vegas went 7-2 in the postseason. Young started all nine games and had a playoff-high 22 points in Game 3 of the finals. She scored 13 points with eight assists, five rebounds and two steals in the Game 4-clincher.
Young is the sixth former Irish player to win a WNBA championship. She joins Riley, Coquese Washington, Jacqueline Batteast, Devereaux Peters and Jewell Loyd.
More Notre Dame tweets of the weekend
It was the weekend of Manti Te'o in South Bend.
Relive the Irish's first win of the season in a two-minute rapid recap.
Kyle Hamilton is already making plays in the NFL.
Sign up for Blue & Gold and On3 for the latest Notre Dame athletics coverage, insider recruiting notes, and more! It's just one dollar for the introductory first year. More information can be found on our subscriptions page.
Quote of the weekend
"There was some, 'Lord, what is going on?'"
— Irish head coach Marcus Freeman on the final minute of Saturday's win
Headlines of the weekend
'Heart and soul': How former Notre Dame Leprechaun Mike Brown leaves legacy through children's book (Tyler Horka, Blue & Gold)
Irish Echoes: Knute Rockne protégés helped Catholic colleges challenge for Bay Area supremacy (Jim Lefebvre, Blue & Gold)
Everything Manti Te'o said in passionate Fighting Irish football pregame speech (Tyler Horka, Blue & Gold)
Marcus Freeman gets the first win of career in a 24-17 defeat of Cal (Todd Burlage, Blue & Gold)
Game balls: Four Irish players who excelled in a 24-17 win over Cal (Todd Burlage, Blue & Gold)
Report card: Grading Marcus Freeman, Irish football in win over Cal (Tyler Horka, Blue & Gold)
Five thoughts: Irish edge Cal 24-17 for first win of season (Patrick Engel, Blue & Gold)
What they're saying after Notre Dame's 24-17 win over Cal (Mike Singer, Blue & Gold)
Manti Te'o back at Notre Dame, and finally at peace (Todd Burlage, Blue & Gold)
How Notre Dame scored key TD by calling the same run play four straight times (Patrick Engel, Blue & Gold)
How Notre Dame football got its run game going in win over Cal (Tyler Horka, Blue & Gold)
Notre Dame vs. California snap counts, participation chart (Patrick Engel, Blue & Gold)
Breaking down PFF grades for Notre Dame football in win over Cal (Tyler Horka, Blue & Gold)
South Carolina commit, 'Diehard' Notre Dame fan Karson Hobbs picks up Irish offer during visit (Mike Singer, Blue & Gold)