Notre Dame women's basketball signee KK Bransford named McDonald's All-American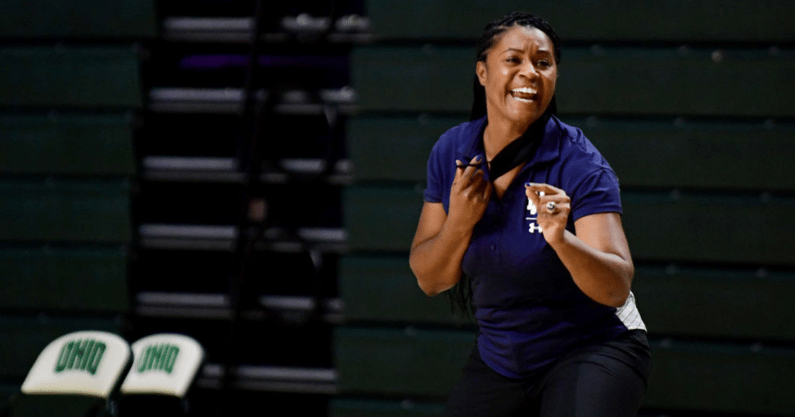 Notre Dame women's basketball is well acquainted with McDonald's All-Americans.
The current Fighting Irish roster has six of them, and head coach Niele Ivey is getting another for the 2022-23 team. Class of 2022 signee KK Bransford was named a McDonald's All-American on Tuesday.
Bransford is one of 24 players across the country selected to participate in the annual prestigious high school all-star game, which will be played at Wintrust Arena in Chicago on March 29 at 6:30 p.m. ET. Bransford is the No. 7 guard and No. 29 overall player in her class according to ESPN.
PROMOTION
The Cincinnati (Ohio) Mount Notre Dame High School product is the only player Notre Dame has signed in the current class. She was named Ohio Ms. Basketball in 2021 and has led her school to two straight state championships.
"KK has a college body right now," Ivey said in November. "I think the sky's the limit for her. She's capable of making an immediate impact. She's different from the guards we have because of her size and versatility. With how she plays, she's going to do whatever she can to help the team and whatever I need."
RELATED
Ivey compared Bransford to former Notre Dame guards Jackie Young and Arike Ogunbowale. That is good company considering both of those players won a national championship together at Notre Dame in 2018. The comparison came because of more than just on-court attributes, though. Ivey said she loves the way Bransford competes and plays to win.
Per MaxPreps, Bransford is averaging 22.6 points, 8.5 rebounds, 4.7 assists and 2.4 steals per game as a senior this season. She has scored 20 or more points in 13 of 17 games with a season high of 34 and scored 30-plus points in back-to-back games in December.
"She was someone I targeted right away in the 2022 class," Ivey said. "Just a phenomenal young woman on and off the court. She fits my culture perfectly. And then what she does on the court, she's versatile."
FOOTBALL
The culture has been one of supremely talented players meshing together. Graduate student forward Maya Dodson and sophomore forward Maddy Westbeld, who are tied for the team lead in scoring this season at 12.6 points per game, were both McDonald's All-Americans. So were senior guard Katlyn Gilbert, freshman guard Sonia Citron, sophomore forward Natalija Marshall, junior guard Anaya Peoples and junior forward Sam Brunelle.
Bransford should fit right in with those players, and she should be able to bring her own swagger to the program too. Per ESPN, she's "one of the toughest matchups in the class."
"She is so strong and physical on the perimeter that it is hard for defenses to keep her from touching the paint," an ESPN scouting report said. "She has a good feel for the post-up game, which allows for advantageous touches and facilitation from close to the rim. Bransford sees the floor and can be a physical defender for Niele Ivey and Notre Dame."