Observations from Notre Dame women's basketball loss at Boston College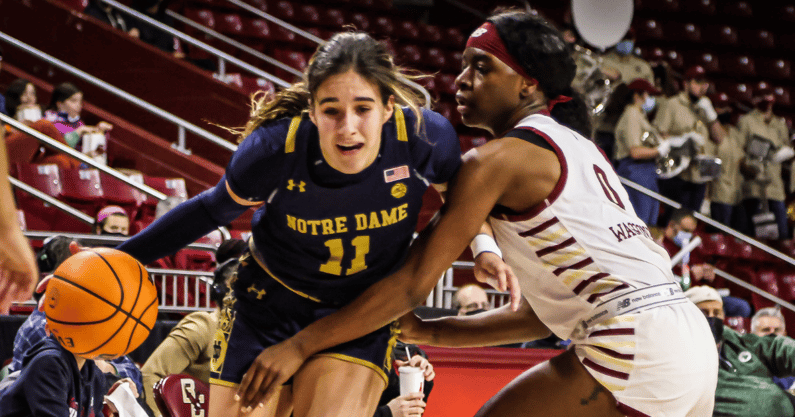 There were shades of the Notre Dame loss at Duke.
Just like when the Fighting Irish lost to the Blue Devils earlier this month, Notre Dame had the basketball in the closing seconds of the game inside Conte Forum on the campus of Boston College Thursday night. The Irish just needed a bucket to tie the game.
It never came.
Sophomore forward Maddy Westbeld, Notre Dame's leading scorer, missed a turnaround jumper in the paint. Sophomore combo guard Sonia Citron missed the put-back. Notre Dame lost to Boston College 73-71 — an eerily similar score to the 72-70 defeat the Irish suffered to Duke nearly three weeks ago.
Even before Westbeld had a chance to tie, graduate student forward Maya Dodson had a shot from less than five feet to take the lead with five seconds left. She missed, Boston College (13-5 overall, 4-3 ACC) snagged the rebound, and Notre Dame had to foul. It was Westbeld and Dodson who missed game-tying attempts at Duke, too.
"We had two wide-open layups," head coach Niele Ivey said. "Even with the run they had, all the things they threw at us, we still had an opportunity to tie the game — to win the game."
Here are three observations from the Notre Dame (13-4, 4-2 ACC) loss.
Notre Dame can't close out on three-point attempts
The Irish were cruising in the third quarter.
They built a 55-41 lead on an 8-0 run with Dodson accounting for six of those points. Then it all came crashing down. Boston College responded to a timeout with a 13-0 run to close the quarter. The Eagles tacked on a bucket at the start of the fourth to make it a 15-0 run for good measure.
Six of the 15 points came on Boston College three-pointers, but senior guards Cameron Swartz and Makayla Dickens were only just getting started. That duo combined for four fourth-quarter threes and connected on 11 of 18 from beyond the arc overall.
Every time Notre Dame nudged ahead in the final frame, Swartz and Dickens nailed a three to make it a new ballgame. The Notre Dame defensive zone the Irish have relied on so heavily through the years was not able to key in on those two sharpshooters.
"We just didn't have any awareness where they were," Ivey said. "We gave them wide-open looks. They got comfortable. They got hot."
Notre Dame still forced 15 turnovers and was active defensively outside of losing contain on Swartz and Dickens. Ivey said she's not permanently going away from the zone any time soon.
"We've won the national championship two times with this two-three zone," Ivey said. "I believe in it. It's a game of adjustments."
Maddy Westbeld continues slump
Sometimes it's easy to forget Notre Dame's leading scorer for two seasons running now is just a true sophomore. And they don't call it a sophomore slump for nothing.
Westbeld is going through one right now. After scoring 20-plus points in two games in a four-game span in December, Westbeld has not scored more than 11 in the last four. She went 2 of 8 from the field for eight points with four rebounds, two assists and three turnovers against Boston College.
Notre Dame had five different players score in double digits, but the Irish still need more from last year's ACC Freshman of the Year. She has looked lost offensively at times. In the final two and a half minutes, Westbeld had a travel, a blocked layup and the missed attempt to tie in the final seconds.
Ivey believes all Westbeld has to do is stay the course to get back on track.
"She gets most teams' best player [guarding her] at times," Ivey said. "Everybody knows who she is and what she can do and what she's capable of from last year. I think it's just her getting her confidence [back], getting her some looks. It's just playing through it.
"She's a sophomore. She's still young. She has such a high ceiling. She's going to continue to battle. She works so hard. She's so coachable. I just love her so much. She's going to find her way."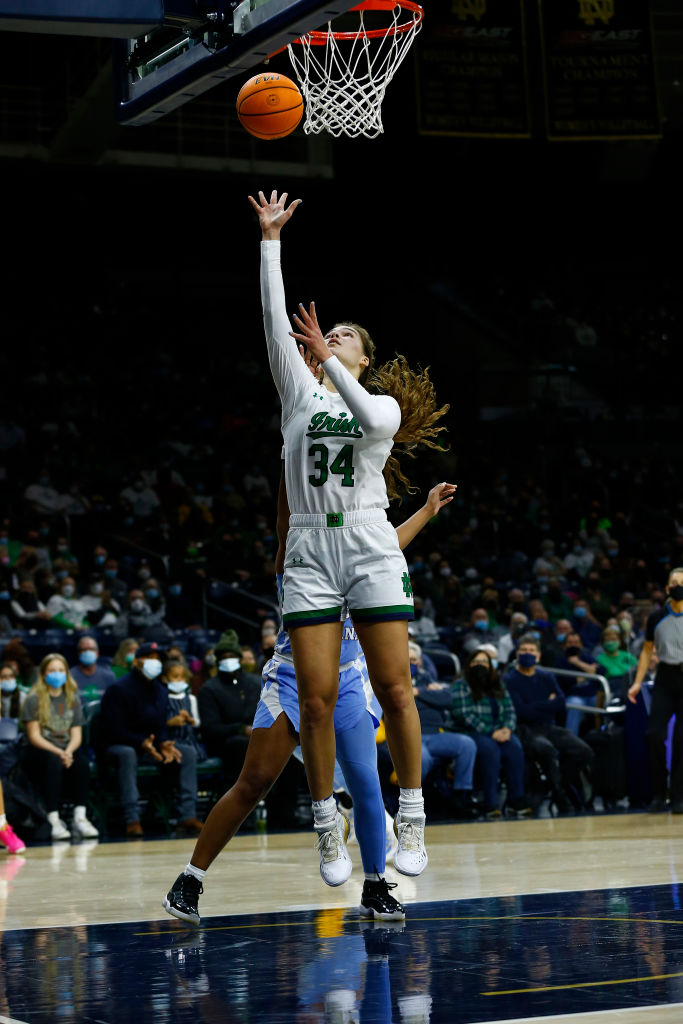 Notre Dame has turnover problem
Having the nation's leader in assists (freshman point guard Olivia Miles) would lead one to think Notre Dame is in pretty good hands in regard to taking care of the basketball.
Not entirely.
Notre Dame had 18 turnovers against Boston College. Notre Dame has only had one game this season with less than 10, and the Irish averaged 15.2 going into Thursday's game. That ranked No. 112 nationally.
Miles turned it over four times against the Eagles. She also fouled out. Senior guard Dara Mabrey had a team-high five turnovers, meaning half of the team's giveaways came from the starting backcourt mates. Westbeld and junior forward Sam Brunelle had three apiece.
In four losses this season, Notre Dame has turned the ball over an average of 19 times per game. Extra possessions for the opposition generally lead to losses. Boston College outscored Notre Dame 19-12 in points off turnovers. That was one of the major differences in the game.
"We lost our composure," Ivey said. "They started pressing and sped us up a little bit … A lot of our mistakes led to their momentum baskets."
Notre Dame stays on the road Saturday to take on Pittsburgh (10-7, 1-5 ACC) on Sunday at 2 p.m. ET.