Notre Dame women's basketball vs. NC State postponed due to COVID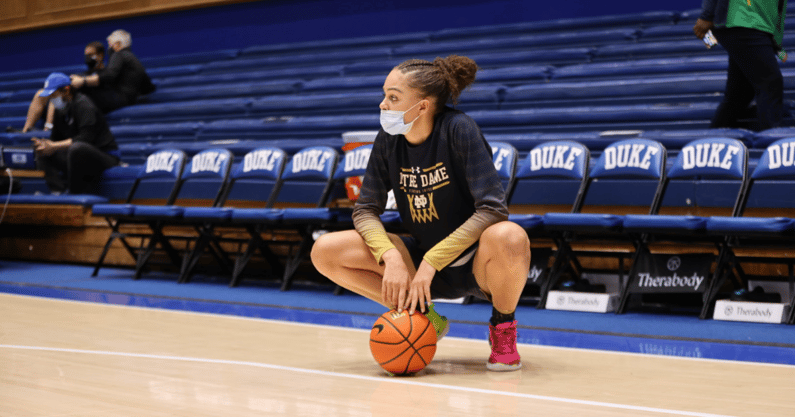 The top-20 showdown scheduled for Sunday at Purcell Pavilion has been postponed due to COVID-19 cases within the Notre Dame women's basketball program.
No. 20 Notre Dame (11-3, 2-1 ACC) was set to host No. 5 NC State (12-2, 4-0) in a pivotal game early in conference play. The two sides will have to work with the league in order to make the game up now.
It's the second game in as many weeks postponed due to COVID for the Fighting Irish. Dec. 30's game against Virginia was postponed due to cases within the Cavaliers' program.
Head coach Niele Ivey's team is coming off a narrow 72-70 defeat on the road at then-No. 15 Duke. The Irish are scheduled to play at Wake Forest on Thursday, Jan. 13. Notre Dame's next schedule home game is Sunday, Jan. 16. The Irish will host North Carolina.
Complications with COVID-19 marred Ivey's first season as head coach last year. The Irish were up and down during multiple pauses in play on their way to a 10-10 overall finish. Notre Dame missed the NCAA Tournament.
The Irish are well on their way to qualifying for this year's tournament, but it will be interesting to see how COVID continues to affect the season. Notre Dame only has 10 scholarship players on its roster, so just a few cases within the program are enough to sideline the whole team for a matter of time.
The Irish are led in scoring by sophomore forward Maddy Westbeld, who was named to the Wooden Award Midseason Top 25 list this week. Westbeld is averaging 13.8 points per game after leading the Irish as a true freshman last year with 15.2 points per game.
Westbeld is one of three Irish players averaging double digits. She's joined by a pair of freshmen, point guard Olivia Miles (12.6) and combo guard Sonia Citron (11.7). Graduate senior center Maya Dodson averages 12.1 points per game but has scored 25-plus in each of her last two outings.
As of Dec. 28, Miles was the only player in the country averaging at least 12 points, seven assists and six rebounds per game. Citron, meanwhile, has won ACC Freshman of the Week honors four times. Ivey might have the best freshmen duo in the country.
"She's a great teammate," Miles told ACC Network of Citron this week. "She's so fun to play with. I feel like she knows the court so well. And she's just such a brilliant mind and so fun to be around."
"Her passing and the way that she can just find you anyway on the court, she's going to get the ball to you," Citron said in the same interview.