Notre Dame women's basketball earns No. 3 seed in NCAA Tournament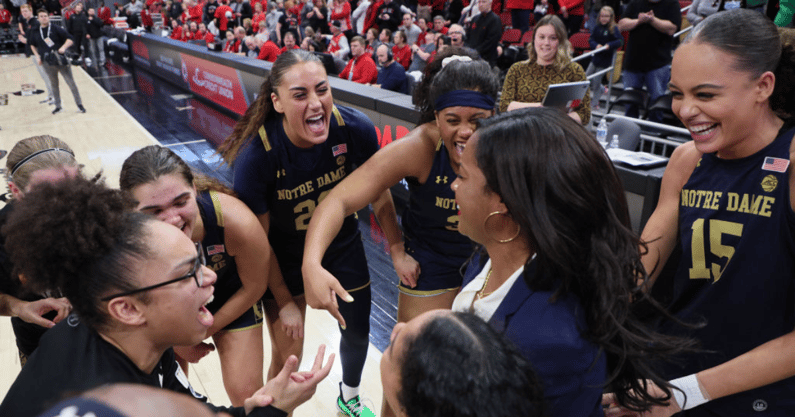 The Notre Dame Fighting Irish are dancing again. And for the first time since 2019, they get to do so in their home arena.
Notre Dame women's basketball earned a No. 3 seed in the 2023 NCAA Tournament. The selection committee released the full field of 68 teams Sunday night. By being named one of the top 16 overall seeds in the tournament, Notre Dame will host first and second round games at Purcell Pavilion in South Bend this weekend.
The Irish (25-5) get their postseason run started Friday, March 17, against No. 14 seed Southern Utah (23-9). If head coach Niele Ivey's team wins that matchup, the winner of No. 6 seed Creighton (22-8) and either No. 11 seed Illinois (22-9) or No. 11 seed Mississippi State (20-10) is on deck for the Blue and Gold in the second round. Illinois and Mississippi State are playing in a First Four game.
Sign up for Blue & Gold and On3 for the latest ND athletics coverage, insider recruiting notes, and more! It's just $29.99 for a limited time for new subscribers. More information can be found on our subscriptions page.
Notre Dame is aiming for its second straight trip to the Sweet 16. It seemed inevitable the Irish would get there all season. They stayed in the top 10 of the Associated Press poll for the entirety of the regular season and never lost back-to-back games. The toughest stretch endured was dropping two of three, and even those losses came to respectable opponents in then-No. 20 NC State and then-No. 16 Duke.
After losing to the Blue Devils and Feb. 5, Notre Dame rattled off seven victories in a row. But the Irish enter the big dance coming off a 64-38 blowout defeat to Louisville in the ACC Tournament semifinals. That was a season-low scoring total for the Irish offense.
Being held to that number was due in large part to missing sophomore point guard Olivia Miles. She did not play in either of Notre Dame's conference tournament games because of a right knee injury suffered in the regular season finale on Feb. 26. Miles ranks second on the team with 14.3 points per game and ranks first in rebounds (7.3), assists (6.9) and steals (2.1). If the Irish are without her for the rest of the season, which may very well be the case, Notre Dame is going to have a tough time advancing in the later rounds.
The Irish would be led by sophomore guard Sonia Citron, the team's leading scorer at 14.7 points per game. She passed Miles in scoring by putting up 21 points per game in Notre Dame's last three times out. Without Miles, the Irish will go as far as Citron carries them.