NCAA Tournament: Game time, TV information released for Southern Utah vs. Notre Dame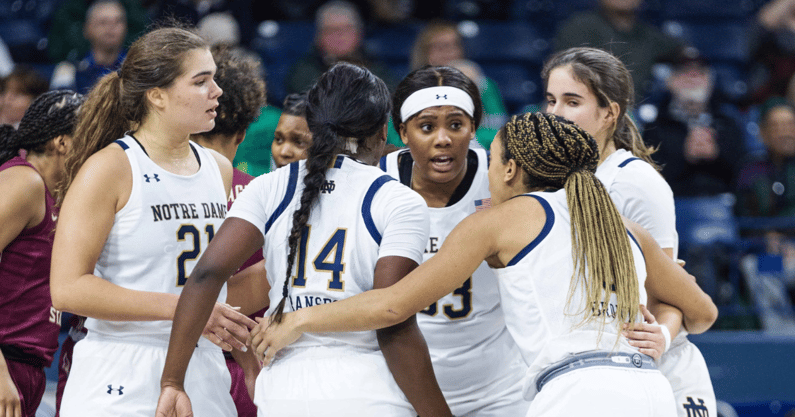 Notre Dame knows exactly when its NCAA Tournament gets started. Friday's game time and TV information for the first-round matchup between the No. 3 seed Fighting Irish (25-5) and the No. 14 seed Southern Utah Thunderbirds (23-9) came out on Monday.
The Irish and Thunderbirds tip off at Purcell Pavilion in South Bend at 3:30 p.m. ET on ESPN2. No. 6 seed Creighton and the winner of Wednesday's First Four matchup between No. 11 seeds Mississippi State (20-10) and Illinois (22-9) will follow at 6 p.m. ET on ESPN News.
PROMOTION: Join for only $29.99 to unlock premium access of the best Notre Dame coverage in the market. This is a limited-time offer, so act fast!
This is Notre Dame's first time hosting NCAA Tournament games in South Bend since 2019. Head coach Niele Ivey is coaching home tournament games for the first time in her three-year head coaching career. Last year, Notre Dame went on the road to Norman, Okla., as a No. 5 seed. Notre Dame is 22-2 all time playing at home in the NCAA Tournament.
"I am thrilled," Ivey said Sunday night. "It was a dream of mine to come back here and be able to have the opportunity to host. I remember two years ago just hoping to be in the tournament. Now this year, we get an opportunity to host. So it's a big deal for me and the program. We put in the body of work, so I'm appreciative to the committee for this and excited to be able to share this moment with the team and community."
Ivey said the selection committee did not inquire about the injury status of Notre Dame sophomore point guard Olivia Miles. The Irish were projected by ESPN to land on the No. 3 seed line, and that's where they ended up. They were not dinged for the uncertainty of whether or not Miles can play in the tournament.
The hope for Notre Dame is that the community Ivey alluded to will be able to see the team's star on the floor this weekend. But even if she cannot give it a go, the other Irish players are ready to make their mark in March.
"I know we love playing on our home court, and it's definitely a huge advantage," sophomore guard Sonia Citron said. "I know we're really excited about it."
The Irish's next tournament victory will be the program's 70th all time. Notre Dame goes into the postseason with an all-time record of 69-25 in NCAA Tournament games.