Notre Dame women's basketball finalizes 2023-24 nonconference schedule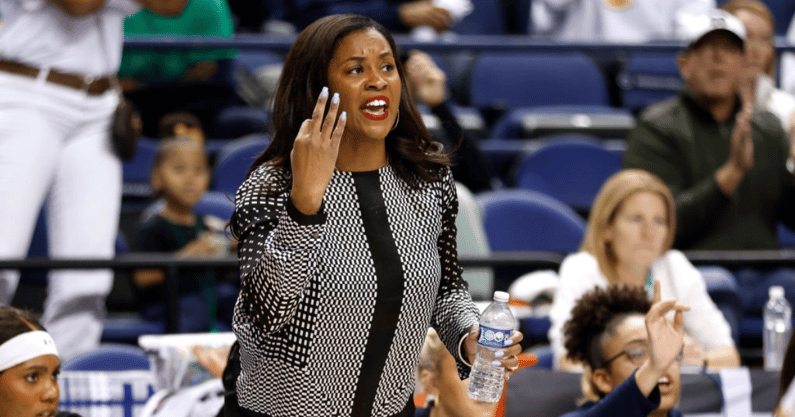 The 2023-24 Notre Dame women's basketball nonconference schedule is set. The Fighting Irish announced Tuesday they will play Illinois in the second annual Citi Shamrock Classic on Nov. 18 at Entertainment & Sports Arena in Washington, D.C. Tipoff at the home of the Washington Mystics is set for 1 p.m. ET on NBC.
Last year, Notre Dame beat California 90-79 in the inaugural Citi Shamrock Classic in Irish head coach Niele Ivey's native St. Louis.
"We are so excited to participate in the second annual Citi Shamrock Classic after last year's great success," Ivey said in a statement. "Washington, D.C., was and continues to be the starting point of so many initiatives promoting equality across our country. There is no better place to play a game like this — one that is bigger than basketball — and we cannot wait to face Illinois in another historic matchup on NBC and Peacock."
The Shamrock Classic is a national attraction that serves to elevate, educate and spotlight women according to Notre Dame's press release. Game weekend will feature a women's leadership luncheon, and Gatorade is putting on a community service initiative for both teams to take part in as well.
Interim Chief Marketing Officer of Citi, Tina Davis, said Citi is proud to team up with Notre Dame Global Partnerships and NBC "for another groundbreaking basketball event."
"Gender equality is a key pillar of Citi's sports sponsorships, and we want to help ensure women and girls have equal opportunities to showcase their talents," Davis added. "We hope events like this help put women's sports in front of a broader audience."
The 2022 Shamrock Classic was the first women's basketball game to ever air nationally on NBC. Notre Dame is expecting an even larger audience this year. For diehard Fighting Irish fans, it will serve as the appetizer to Notre Dame's senior day football game versus Wake Forest at 3:30 p.m. ET on the same Saturday.
"We're looking forward to presenting the Citi Shamrock Classic for a second consecutive year and continuing to showcase the Notre Dame women's basketball program and the excitement of women's sports to a national audience on NBC and Peacock," said Gary Quinn, Vice President, Programming, NBC Sports. "With Notre Dame football's final home game of the season later that day on NBC and Peacock, NBC Sports will present a must-see day for Notre Dame fans across the country."
Here is a look at Notre Dame women's basketball's full nonconference slate.
October 30: Purdue University Northwest (exhibition)
Nov. 6: South Carolina (Paris, France)
Nov. 12: New Jersey Institute of Technology
Nov. 15: Northwestern
Nov. 18: Illinois (Washington D.C.)
Nov. 21: Chicago State
Nov. 25: at Ball State
Nov. 29: at Tennessee
Dec. 6: Lafayette
Dec. 17: Purdue
Dec. 21: Western Michigan
Jan. 27: at UConn