Three Notre Dame women's basketball players attend former Irish assistant's introductory press conference at Rutgers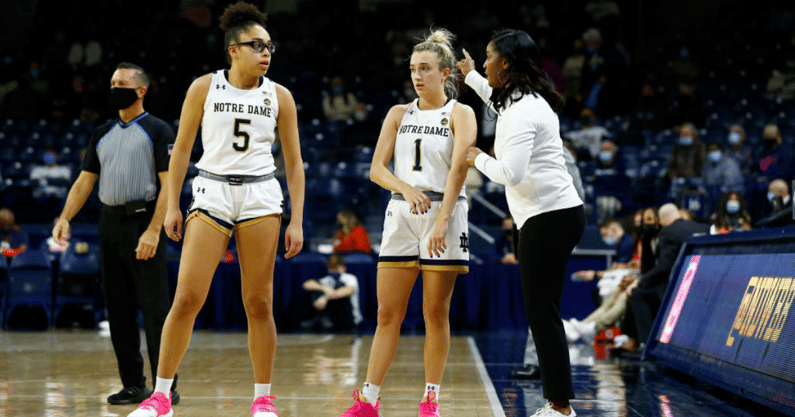 Once a member of the Notre Dame Fighting Irish family, always a member of the Notre Dame Fighting Irish family. Three Notre Dame women's basketball players took that to heart Wednesday.
Former Irish assistant Coquese Washington was introduced as the new head coach at Rutgers this morning. Three current Irish players — sophomore point guard Olivia Miles, junior forward Natalija Marshall and graduate senior guard Dara Mabrey — were in attendance on the campus in New Brunswick, N.J., for Washington's press conference.
The news of Washington accepting the job at Rutgers came out Monday evening. An outpouring of support quickly followed on social media. Marshall was included in that, tweeting a vote of confidence for Washington with a hint of sadness that she'll no longer be in South Bend. Even Notre Dame head coach Niele Ivey wished Washington well.
That shouldn't come as a surprise; Washington was an assistant at Notre Dame when Ivey was a player. The two won a national championship together in 2001. When Ivey accepted the head coach's gig to take over for Muffet McGraw in 2020, her first step in building a coaching staff was a phone call to Washington, who was an assistant at Oklahoma at the time.
Washington accepted without hesitation. She called Ivey her "little sister." Their overlapping histories made that possible. And, clearly, Washington has created a familial-like bond with her more recent players, too. Rutgers president Jonathan Holloway noticed.
"It is quite remarkable to the players here from Notre Dame, that you're here," Holloway said during the press conference.
PROMOTION: Sign up for just $1 for your first year at Blue & Gold
Holloway didn't realize the players were in attendance until he was up on stage with Washington preparing to speak. He looked out at the crowd and saw a bundle of blue, green and gold among a sea of scarlet.
"Very seriously, think about this," Holloway said. "These athletes, these scholar-athletes, have such a profound connection to a person that it connects through the university – absolutely, all due respect to Notre Dame; it is an excellent institution — but it is transcendent as well that you're here for your coach."
Miles and Mabrey are from New Jersey, and Marshall is from New York. The trio didn't travel from South Bend for the press conference, but Holloway's point still stands — their presence said it all. Washington was a valued piece to the Notre Dame coaching staff, and she will be missed by the program.
An unexpected visit conveyed that perfectly.
"I'm not usually an overly emotional person, but I have to admit — my heart is in my throat right now at the reception from everybody here at Rutgers and in particular from Nat, Dara and Olivia who surprised me," Washington said. "They came walking down, and I said, 'That looks just like Nat Mar— that is Nat Marshall!' It's just so awesome that you guys came out. It means a lot to me. I love you guys and appreciate it."