Notre Dame PG Olivia Miles will not play in NCAA Tournament due to knee injury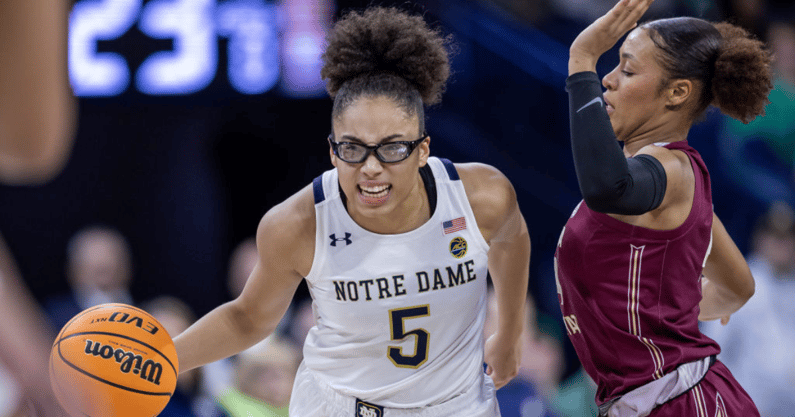 Notre Dame's path through the postseason just got much more difficult. Superstar point guard Olivia Miles is out for the season with a knee injury, the program announced on social media Thursday morning.
Miles suffered the injury in Notre Dame's regular season finale at Louisville on Feb. 26. She went to the locker room with less than three minutes remaining until halftime and never returned to the floor. The Irish withstood her absence and beat the Cardinals, 68-65, to win the ACC regular season championship outright.
Winning one game without Miles for one half was one thing. Beating postseason opponents without her from the start has already proven to be another. That much was made evident in a 64-38 loss to the same Louisville team in the ACC Tournament semifinals on March 4.
Sign up for Blue & Gold and On3 for the latest ND athletics coverage, insider recruiting notes, and more! It's just $29.99 for a limited time for new subscribers. More information can be found on our subscriptions page.
Miles ranks second on the team with 14.3 points per game. She was the team leader in that category all season until she only scored 2 vs. Louisville in the game in which she was injured and fellow sophomore guard Sonia Citron erupted for 27 to lead Notre Dame to a win. Citron averages 14.7 points per game after scoring 28 in the ACC Tournament quarterfinals vs. NC State.
Miles is so much more than a scorer, though. She leads Notre Dame in rebounds (7.2), assists (6.9) and steals (2.1) per game. She hit a game-winning buzzer beater in overtime vs. Louisville on Feb. 16. When Notre Dame needed a big play, be it a made shot in the clutch, an assist or a steal, the Irish so often called on Miles.
Now they'll have to look elsewhere.
Miles is Notre Dame's second back court starter to be lost for the season. Graduate student shooting guard Dara Mabrey suffered a torn ACL on Jan. 22. Even after missing the last month-plus after her injury, Mabrey ranks second on the team in made three-pointers (33). Citron ranks first with 47.
Without Miles and Mabrey, Notre Dame is down to eight healthy scholarship players. Citron likely moves into more of a ball-handling role as she did in the conference tourney, and freshman KK Bransford probably continues to start with her in the backcourt. That leaves freshman guard Cassandre Prosper, junior center Natalija Marshall and graduate student guard Jenna Brown to come off the bench. Together, that trio averages 17.3 points per game. Bransford and Prosper combined for 25 in the regular season finale at Louisville. Losing Miles puts pressure on that freshman tandem to keep producing above their usual contributions. When they don't — 4 combined points in the ACC Tournament semifinals, for instance — Notre Dame is in danger offensively.
No. 3 seed Notre Dame (25-5) begins the NCAA Tournament in at Purcell Pavilion in South Bend, Ind., against No. 14 seed Southern Utah (23-9) at 3:30 p.m. ET Friday.