Notre Dame women's basketball signees Hannah Hidalgo, Emma Risch named McDonald's All-Americans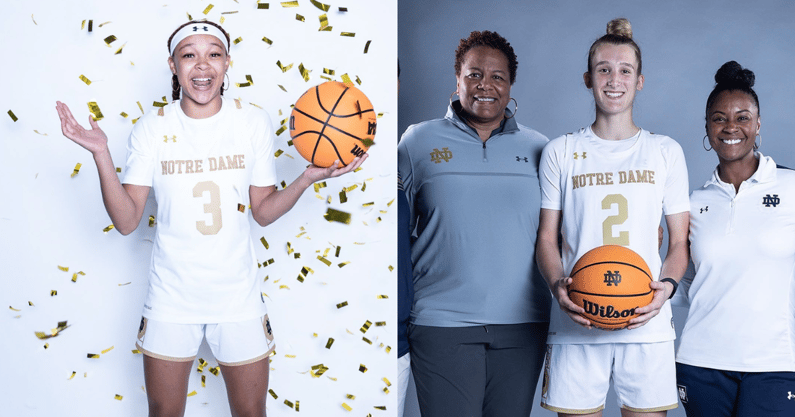 The tradition of Notre Dame women's basketball signees being named to the McDonald's All-American team lives on. Class of 2023 signees Emma Risch and Hannah Hidalgo joined those have come before them Tuesday with their addition to this year's roster.
Notre Dame currently has five former McDonald's All-Americans on its roster; graduate student guard Jenna Brown, sophomore guard Sonia Citron, freshman guard KK Bransford, junior forward Maddy Westbeld and junior forward Kylee Watson. If sophomore point guard Olivia Miles and freshman guard Cassandre Prosper did not enroll early and forego their final semester as high schoolers, they would have likely landed on the McDonald's All-American roster as well.
PROMOTION: Join for only $29.99 to unlock premium access of the best Notre Dame coverage in the market. This is a limited-time offer, so act fast!
This year's McDonald's All-American Games will be played at the Toyota Center in Houston on March 28. The girls will play a four-quarter game with 12 players per side at 6:30 p.m. ET (ESPN2) followed by the same format for the boys starting at 9 p.m. ET (ESPN). Hidalgo and Risch will be teammates on the East team.
Hidalgo is the No. 5 overall player and the No. 1 point guard in the class according to ESPN. Risch is the No. 20 overall player and eighth-rated guard. Both are five-star prospects, as was Prosper (No. 16 overall, No. 2 forward). Notre Dame was the only program in the country to sign three top-20 players.
Hidalgo is coming off a 48-point performance with 11 rebounds, 8 steals and 5 assists in a victory for Haddonfield (N.J.) Paul VI High School. According to MaxPreps, Hidalgo has averaged 31.4 points, 8.0 steals, 6.2 rebounds and 4.7 assists per game as a senior at Paul VI.
Melbourne (Fla.) Palm Bay's Risch is averaging 24.3 points, 7.5 rebounds, 4.7 assists and 2.9 steals per game, meanwhile. She's made 83 three-pointers and is shooting 45 percent from long range. Notre Dame head coach Niele Ivey said Risch is one of the best shooters she has recruited in quite some time.
Graduate students Dara Mabrey and Lauren Ebo are the only players currently on the Notre Dame roster who will exhaust their eligiblity at the end of the season. Bringing in Hidalgo and Risch will put the Irish in a decent roster-management position, but Notre Dame will once again be on the lookout for a post presence in the offseason.