How Notre Dame women's basketball recruits have performed in high school playoffs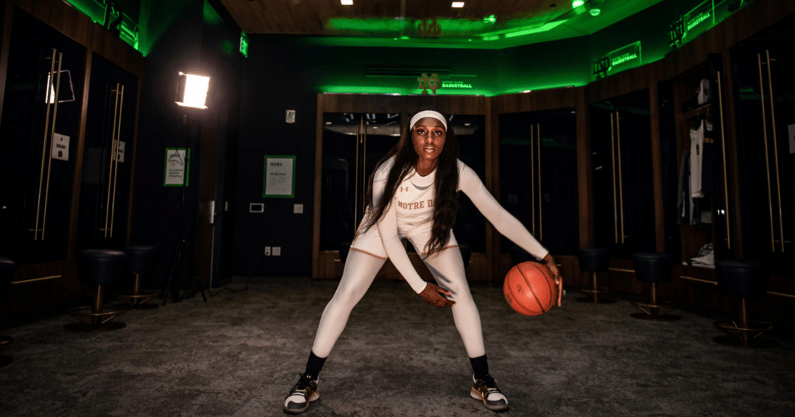 It's playoff time for Notre Dame women's basketball recruits.
The Fighting Irish have two players who have either signed or committed to play for Notre Dame battling for a state championship at the high school level. KK Bransford, a McDonald's All-American signee, is looking to finish her prep career with her third state title. Emma Risch, a junior from Florida, is trying to bring her school its first ever championship.
Bransford's Cincinnati (Ohio) Mount Notre Dame is undefeated through one game of the OHSAA sectional tournament. Bransford scored 15 points in a 55-35 victory over Oak Hills, a win that pushed Mount Notre Dame's record to 22-0 this season. Bransford has averaged 21.5 points, 8.1 rebounds, 4.8 assists and 2.5 steals per game during that unbeaten run.
All signs point to a rematch between Mount Notre Dame and Princeton in the regional semifinal on March 1 should the two teams make it there. It appeared Princeton snapped Mount Notre Dame's 79-game winning streak with a rather emphatic 86-59 result on Dec. 22, but Princeton later forfeited the victory because of an eligibility issue. Mount Notre Dame has won every game thereafter to push its winning streak over 90, which ranks second all-time in the state of Ohio. Millersburg West Holmes won 108 games in a row from 1983-87.
Bransford signed with Notre Dame head coach Niele Ivey and the Fighting Irish last fall. As it stands, she's the only incoming freshman in Notre Dame's class of 2022. Notre Dame certainly has strength in quality with Bransford being yet another McDonald's All-American set to join the roster; the Irish currently have six on a team that has a 19-6 overall record and a 10-4 mark in ACC play.
Depth concerns remain the story for the Irish, though. In Sunday's loss to No. 3 Louisville, Ivey had to work with a six-player rotation for the entire second half. Junior forward Sam Brunelle injured her shoulder in the first half and did not return. The Irish started the game with seven scholarship players available with senior guard Abby Prohaska not traveling due to a head injury. Sophomore forward Natalija Marshall is out for the season after undergoing knee surgery, and senior guard Katlyn Gilbert has been away from the team for well over a month for an undisclosed personal reason.
Needless to say, Bransford's arrival this summer is greatly anticipated by the Irish whether she wins another state title or not.
More Notre Dame women's basketball recruiting
Risch, meanwhile, scored 16 points in a 69-22 4A regional quarterfinal win on Feb. 10. According to MaxPreps, Risch is enjoying her best ever season for Melbourne (Fla.) Palm Bay High School as a junior. She's averaging 20.1 points, 6.6 rebounds, 4.0 assists and 3.3 steals per game. Palm Bay has a 19-5 record and can advance to the regional final with a win over Eustis (16-9) on Tuesday. Palm Bay lost in the 5A state title game last year.
Risch, a four-star guard who's rated as the No. 54 overall player in the class of 2023 per ESPN, committed to Notre Dame on Nov. 14. The 6-1 Risch's recruitment really picked up in 2020 with offers from Louisville, Georgia Tech, South Carolina and others. She added offers from Michigan, NC State and Tennessee in 2021.
Bransford and Risch give Ivey two guards with ball-handling capabilities who provide distinctly different styles. Bransford does most of her damage near the rim. She can hit the occasional jumper, but she does not pride herself on an outside shooting game. She has only made six threes on 28 attempts this season. Risch made 11 threes in one game. She has drained 92 this season and 444 in her career at a staggering 46% clip.
Risch isn't dependent on the three ball. She can drive and create her own shot inside the arc. If opponents leave her open beyond it, though, it's usually lights out. Teams will likely continue to find that out if she continues to power Palm Bay through the state bracket.