Notre Dame women's basketball signee KK Bransford wins Ms. Ohio Basketball again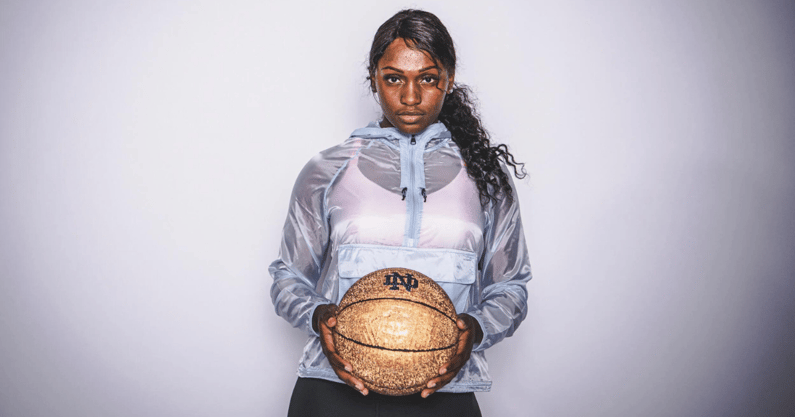 For the second time in as many seasons, Notre Dame women's basketball signee KK Bransford has been named the best high school player in the state of Ohio.
Only six players have ever won back-to-back Ms. Ohio Basketball titles. Bransford, a product of Mount Notre Dame High School in Cincinnati, is the latest. She's also the third from Mount Notre Dame to do so, joining Mel Thomas (2004) and Kendall Hackney (2009). Thomas went on to play at UConn. Hackney went to Northwestern.
The 5-10 guard had another stellar season. She averaged 21.3 points, 8.3 rebounds, 5.1 assists and 2.3 steals per game. She shot 46.2% from the floor. The 5-10 do-it-all guard was a menace on both ends of the floor despite her team losing in a regional final, snapping a hard-to-fathom 98-game Mount Notre Dame winning streak.
PROMOTION: Sign up for just $1 for first year at Blue & Gold
Notre Dame football news
• 'Make History': How Notre Dame quarterback Drew Pyne is motivated by two wristbands
• Why former Notre Dame safety Kyle Hamilton had mixed emotions about the NFL Combine
Bransford inked her name with Notre Dame last fall as the lone signee in the Fighting Irish's class of 2022. Head coach Niele Ivey and the Irish have played majority of this season, one that has seen Notre Dame advance to this weekend's Sweet 16, with seven or eight available scholarship players.
Bransford does not solve the Irish's numbers problem. She's just one player. But she is a super impressive one at that. Bransford will play in next week's McDonald's All-American Game in Chicago. She was one of 24 players across the country to receive that prestigious invitation.
Bransford fits the mold of what Ivey is looking for on the recruiting trail; a tall guard capable of taking over games. Current freshmen Olivia Miles (5-10) and Sonia Citron (6-1) have already had breakout NCAA Tournament performances. Miles became the first freshman in NCAA Tournament history to notch a triple-double in a win over UMass. Citron scored 25 points in Monday's historic 108-64 dismantling of Oklahoma.
When Ivey says the future is bright — which she does quite often — she isn't just talking about Miles and Citron. Bransford has to be included in that discussion. Mount Notre Dame compiled a 109-3 record with her on the floor in her high school career. She leaves the school as its all-time leading scorer.
Bransford is an avid watcher of the program she'll join this summer. She will assuredly be watching when No. 5 seed Notre Dame (24-8) takes on No. 1 seed NC State (31-3) this Saturday at 11:30 a.m. ET (ESPN). The Irish beat the Wolfpack 69-66 on Feb. 1 in the two team's only previous meeting this season.