Notre Dame women's basketball battles COVID bug, Wake Forest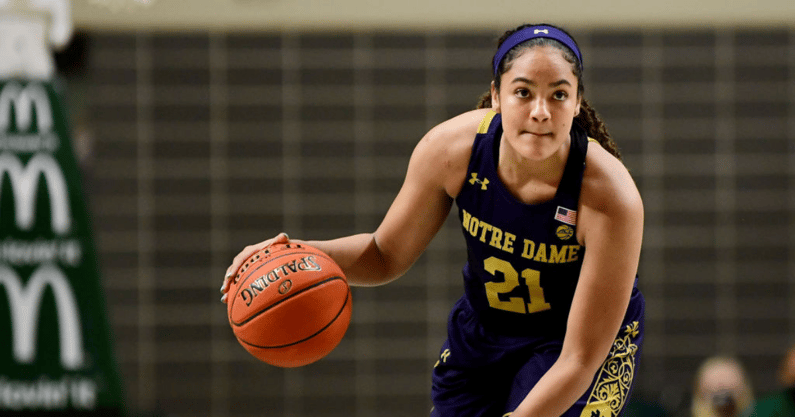 Notre Dame junior guard Anaya Peoples couldn't tell you if she wanted to.
Peoples stood in the lobby of the Rolfs Athletic Hall on Wednesday as Notre Dame women's basketball players and coaches worked their way to the practice court behind her. It seemed like business as usual for head coach Niele Ivey's team. Some players already shooting. Others tying their sneakers, moments away from joining them.
The last week has been anything but normal, though.
The No. 20 Fighting Irish (11-3, 2-1 ACC) were supposed to play No. 4 North Carolina State at Purcell Pavilion this past Sunday. The game was postponed due to COVID-19 cases within the Notre Dame program. Peoples was asked what the last week of practices have been like with multiple players missing while quarantining with the illness.
That's what she couldn't speak on. She was one of those players.
Peoples tested positive for COVID on Wednesday, Jan. 5. She was symptomatic for three days. She didn't return to practice until Tuesday. Ivey had to call off last weekend's practice because she didn't have enough available players to make them worth while.
"It was a struggle just sitting there in my apartment," Peoples said. "Can't bounce a basketball. Can't shoot. But I watched a lot of film and took the scout, so I'm ready to go now."
Ivey said only two players will not be available for Thursday night's road matchup against Wake Forest (12-4, 2-3 ACC) — senior guards Abby Prohaska and Katlyn Gilbert. Prohaska is still feeling the effects of a concussion suffered last month. Ivey did not disclose a reason for Gilbert's absence.
The Irish have only played one game in the last three weeks. Their game against Virginia scheduled for Dec. 30 was postponed due to COVID cases within the Cavaliers' program. It has been rescheduled for Jan. 25. It'll be the middle matchup in a stretch of three games in five days for Notre Dame.
"I'm very confident with the numbers that I have," Ivey said. "We've put in a lot of work. I've reminded the group that we have to stay ready, especially the ones coming off the bench. We need a lot of energy."
The Irish lost 72-70 to No. 16 Duke on the road Jan. 2. They haven't experienced a win since beating DePaul 91-86 Dec. 22. In many ways, that's reminiscent of last year. The Irish went a full calendar month without winning because of a two-week COVID pause.
Ivey's team narrowly lost to No. 1 Louisville before that break. This time, they just barely lost to the ranked Blue Devils. Despite the loss, Notre Dame played well and has been a much improved team overall. The Irish just want opportunities to show that.
For just the second time in 22 days, they finally have one.
"We're so excited," Ivey said. "I'm happy we get that chance. Every day is a blessing. I didn't get any texts or emails [of cancellations]. We're a go. We're going to Wake Forest, and we're ready to play. Just ready to roll the ball out. It makes you realize and put into perspective when you get a chance to play, just take advantage of the opportunity."
No. 20 Notre Dame (11-3, 2-1 ACC) at Wake Forest (12-4, 2-3)
When: Thursday, Jan. 13 at 7 p.m. ET
Where: Lawrence Joel Veterans Memorial Coliseum
NET rankings: Notre Dame 18, Wake Forest 79
Last meeting: Notre Dame won 79-72 on Jan. 14, 2021 in Winston-Salem, N.C.
Series history: Notre Dame leads 9-0
Notes on Wake Forest: The Demon Deacons have lost three of their last five games after starting the season 10-1 … Wake Forest is led by sophomore guard Jewel Spear, who is averaging 19.8 points per game … Nobody else on the Demon Deacons roster averages double figures … Wake Forest ranks No. 132 nationally in scoring offense at 68.1 points per game … The Demon Deacons rank No. 60 in scoring defense at 57.2 points per game.