Observations from Notre Dame women's basketball win over Wake Forest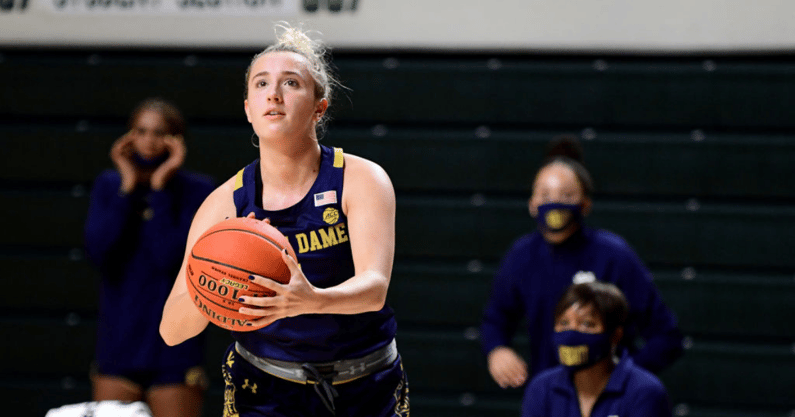 It would have been understandable for Notre Dame to come out flat against Wake Forest on Thursday night, all things considered.
The Fighting Irish were on the road. They hadn't played a game since Jan. 2. It was just the second time in 22 days they had taken the floor for a competitive game. The Irish were also hit hard by COVID-19 last week. They still weren't at full strength for Thursday's tilt against the Demon Deacons.
None of that seemed to matter.
Head coach Niele Ivey's team put the tough circumstances on the back burner and burst out of the gates on a 16-2 run. No. 20 Notre Dame (12-3 overall, 3-1 ACC) cruised to a 74-64 wire-to-wire victory over Wake Forest (12-5, 2-4) despite getting outscored by 14 points in the fourth quarter.
"Today was a great opportunity for us, especially after hitting adversity," senior guard Dara Mabrey said. "And I'm proud of the way we came out. I think we could have handled the second half a little bit better, but again, we're just working. And the only thing we can do is continue to get better and really stick together during these hard times."
The Irish took a 24-point lead into the final frame. They had a sizable margin for error, even if Ivey didn't want her team to play around too much with it. A win is a win, and there were more impressive moments than not-so-endearing ones for Notre Dame.
Here are three observations from the Irish's victory, their first since beating DePaul 91-86 on Dec. 22.
Defense leads to offense
Notre Dame has employed a zone defense for much of the season. Thursday, it was as menacing as it has been all year.
The Irish forced 19 Wake Forest turnovers. Fourteen of those were Notre Dame steals. The difference in the game was points off turnovers; the Irish held a 23-8 advantage in that statistical category.
"We got a lot of deflections, and those deflections, rebounds and tips led to easy transition points," Ivey said. "We did a good job of making good reads in two-on-ones and three-on-twos in transition. That's something we've been really working on — creating our offense from our defense."
The way teams have counteracted the Notre Dame zone this season has been a common way to defeat any zone; with the three-point shot. Wake Forest tried, but the results were not as effective as Duke's when the Blue Devils defeated the Irish 72-70 a week and a half ago by making 10 threes.
Wake Forest went 8 of 20 (40.0 percent) as a team from deep. Four of those came in the fourth quarter, and leading scorer Jewel Spear had five of them overall. For most of the night, Notre Dame did not let the Demon Deacons get loose along the perimeter until the fourth quarter. The Irish defense was too quick to clog up passing lanes and close out on shot attempts for most of the night.
Notre Dame got away from that when its lead expanded to 20-plus points, and Wake Forest took advantage.
"They really attacked, came out with four guards at one point and got hot from the three-point line," Ivey said. "Fourth quarter is an area we have to continue to grow in defensively."
Sam Brunelle provides bench scoring
Junior forward Sam Brunelle only had two games this season in which she recorded 20-plus minutes going into Thursday's game. She received her third such opportunity of the season, and she made the most of it.
Brunelle scored 16 points in 27 minutes. She connected on two of her five three-point attempts and 7 of 12 from the field overall. She also had four rebounds and just one turnover.
Brunelle is one of Notre Dame's most versatile offensive threats. She can hit shots from deep. She can create from anywhere in the half court. At 6-2, she can post players up in the paint. When she's running the floor well and effectively sealing the lane defensively, Ivey has a real weapon in Brunelle off the bench.
Ivey called Brunelle "instant offense." Wake Forest employed a zone defense of its own, and it was to Brunelle's benefit in getting looks from the high post and from three-point land.
"She has an incredible shot," Ivey said. "She does a great job of finding her shots within our offense. She gives us a great spark coming off the bench. Tonight, she took really great shots."
"I'm really proud of Sam, and I know she's going to continue to make people pay," Mabrey added. "You got to pick your poison with her — inside or out."
Notre Dame overcomes Sonia Citron's off night
For the first time in what has been a sensational freshman season for combo guard Sonia Citron, she went scoreless for the duration of a game.
Citron missed all three of her shot attempts in 16 minutes, her second-lowest time on the court in a game this season. She got the wind knocked out of her midway through the third quarter and did not return to the floor thereafter.
"I just wanted to make sure she was good," Ivey said. "We had a comfortable lead, so I tried to do a different lineup just because she got rattled."
Notre Dame more than made up for Citron's 11.7 points per game in multiple ways. Of course, Brunelle's 16 helped. Mabrey erupted for 22, 12 more than her season-long average. She alone made up for Citron's lack of production.
Freshman point guard Olivia Miles had another tantalizing night offensively with 15 points and 12 assists despite battling a calf cramp in the second half. Graduate senior center Maya Dodson rounded out the offensive standouts for Notre Dame with 12 points in 23 minutes.
"When you hit adversity, everybody has to step up and everybody has to do a little bit more," Mabrey said.